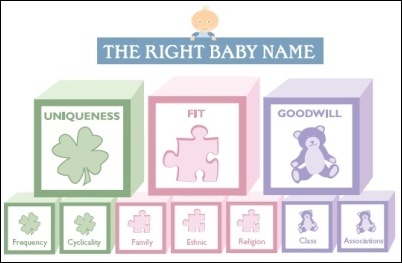 Many parents underestimate the importance of the name, and when they don't, the information to make the right decision used to be unavailable. The Right Baby Name changes this by providing parents with real-time, quantitative reports. Now parents can avoid giving their children a name that's a fad, or that has undesirable associations
Las Vegas, NV (PRWEB) September 1, 2007 -
TheRightBabyName.com takes the guesswork out of choosing a name for a newborn using a scientific approach applied to 100 years of compiled research. The service is available immediately and will help parents with one of the most important and far-reaching decisions they can make for their child.
The service consists of two complementary but stand-alone products, a book and a website. The book, The Right Baby Name, is researched and written by Oliver Tavakol, MD, and incorporates the current scientific literature on the impact of a name on its bearer. Scientific evidence demonstrates that the name influences perceptions and treatment by others. It also influences the child's self-perception, including happiness and aspiration level.
The website offers access to more than 100 years' of historical and statistical data. It features more than 20 quantitative reports, including socioeconomic information, frequency data, and an analysis of the fit of the name with the baby's family and religious group.
To further help parents prioritize name options the site offers a free NameType™ questionnaire, which analyzes parental values and lifestyle. This is the best indicator for the child's own character and can help the parent determine the reports that are most relevant for the child, improving the fit between name and child.
Also available on the website is the NameList recommendation tool, which utilizes a proprietary algorithm to suggest names to expecting parents and is much more efficient than reading through lists of baby names.
"Many parents underestimate the importance of the name, and when they don't, the information to make the right decision used to be unavailable. The Right Baby Name changes this by providing parents with real-time, quantitative reports. Now parents can avoid giving their children a name that's a fad, or that has undesirable associations," says Oliver Tavakol, who holds both an MD and an MA in philosophy, and is the author of The Right Baby Name Book.
Parents should be concerned about fads, sudden surges in popularity of a name that are triggered by a celebrity. A classic case is that of Liz Taylor, who triggered a short spike in the 60s after starring in Cleopatra and winning the Oscar®. Such a spike can date your child, which is undesirable. Information about this surge used to be available only years after the fact, because traditional books and websites focus on the roots of a name. TheRightBabyName.com provides parents with real-time information.
All services are available to expecting parents immediately with a free trial. Gift cards for a 9 months service are available online and from selected retailers.
###