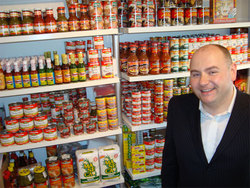 This year has been a real adventure for us, we've enjoyed considerable growth with MexGrocer.co.uk and had our first child a baby girl called Daniela -- We couldn't be happier
Manchester, UK (PRWEB) September 10, 2007
After one year in business with continuous growth. MexGrocer.co.uk the Mexican Food specialist has filled a growing niche market in the on-line grocery market with their successful business model, product authenticity and unique approach to customer service.
MexGrocer.co.uk specializes in selling Authentic Mexican Food products, Mexican Food Recipes, Tortilla Presses, Dried Chili Peppers and Mexican Jewelery to European consumers.
They offer the largest range of Mexican Food products at competitive prices, delivering authentic Mexican food to their customers with their courier partners Business Post who ensure reliable & rapid delivery of their packages all over Europe.
"Over the last 12 months we have had over 3 million visitors from every country in Europe" says Sol Flamberg -- co-owner, "Our multilingual site provides a secure shopping experience in English, Spanish, French, Dutch, German & Italian and If any of our customers need help they can speak directly to an operator via the very latest in Internet customer service technology".
MexGrocer.co.uk has revolutionized the shopping process by eliminating the need to hunt across several sources in search of Authentic Mexican Food not commonly in stock at conventional grocers & on line grocery sites.
According to Datamonitor, the total Mexican food market will be valued at £240M in 2009 up from £200M in 2004. MexGrocer.co.uk, the leading on line Mexican Food store in Europe will continue to grow in line with this significant growth through it's focus on authenticity, the use of the latest in customer service technology and it's commitment to this niche. "We believe there is a Mexican food revolution happening here in Europe as people are discovering new tastes and demanding nothing but absolute authenticity!"
MexGrocer.co.uk are helping to feed the revolution by opening a new wholesale division delivering their authentic taste to Mexican Food restaurants & small independent grocery stores.
Sol & Monica Flamberg opened MexGrocer.co.uk in September 2006 after getting married in Mexico in Monica's home city of Guadalajara, Jalisco and moving to the UK "This year has been a real adventure for us, we've enjoyed considerable growth with MexGrocer.co.uk and had our first child a baby girl called Daniela -- We couldn't be happier," says Monica Flamberg -- Co-owner & Proud Mother.
The MexGrocer.co.uk - Mexican Food Website can be found at http://www.mexgrocer.co.uk
###