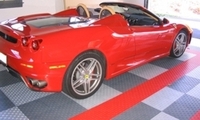 Palm Desert, CA (PRWEB) September 11, 2007
Swisstrax, Inc. offers a practical and modern alternative to standard concrete and epoxy garage flooring. Randy Nelson, President, is pleased to announce the newest developments for the company. First, it has revamped its website, making it more user-friendly, informative and streamlined. The website address is still the same, http://www.swisstrax.com. We look forward to comments on how we can continue to make the internet service better. Also, this fall, we are moving to a 9200 square foot warehouse. This will enable Swisstrax to offer a faster shipping turnaround time for our customers and partners, by keeping our best selling products like Diamondtrax Interlocking floor tiles constantly in stock.
Diamondtrax flooring tiles, one of the top sellers for residential and commercial applications, provide a non-slip, affordable, easy to clean flooring surface that is resistant to chemicals, gas, oil and other common automotive liquids. Unlike concrete or epoxy, Diamondtrax tiles do not chip or crack nor do they require noxious floor stripping chemicals or time consuming concrete patching. The Diamondtrax tiles have a compressive strength of 5120 psi, which means it is more than able to stand up to whatever vehicles, motorcycles, or equipment placed on it. Swisstrax Inc. stands behind it's product with a 12 year warranty and the corporate headquarters is staffed with professional, knowledgeable people who are quick to answer any questions. The simple snap together design of these interlocking tiles make the entire installation quick and uncomplicated enough for the do-it-yourselfer, but there are distributors in most major metropolitan areas to assist with installation. The 14 colors offered in the Diamondtrax product line allow consumers to be creative with personalized floor designs, whether matching an automobiles paint scheme or creating a custom design that shows off favorite team colors. For those who are passionate about cars and want to travel with a custom vehicle, this flooring is 100% portable.
For additional information, please contact Randy Nelson, President of Swisstrax, Inc. toll-free at 866-748-7940 or visit us online at http://www.swisstrax.com and request a sample of Diamondtrax flooring.
###