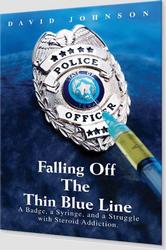 Although I knew writing this book would cause a lot of controversy, my intention wasn't to cause widespread public mistrust in law enforcement
Houston, TX (PRWEB) September 3, 2007
Police officer by day; steroid addict by night. Falling Off the Thin Blue Line is the true account of a cop that became entangled in the underground world of anabolic steroids and his struggle to climb his way out.
When David Johnson swore to dedicate his life to law enforcement at the age of twenty-one, he meant every word of it. The problem was that his addiction to steroids began long before he ever came into contact with them. Plagued by memories of a traumatic teenage event that involuntarily shaped his early adult years, he found a way to justify what he knew was morally wrong -- and illegal. The more he tried to fight the temptation of steroids, the closer he came to the edge until he finally plummeted.
Steroids have received an incredible amount of publicity recently due to the athletes that have been caught using them. Now, for the first time, the steroid spotlight falls directly onto those sworn to uphold the law. The story complicates itself even further when the author details his manufacturing of steroids and his creation of a lucrative website that sold syringes and needles to steroid users across the country.
"Although I knew writing this book would cause a lot of controversy, my intention wasn't to cause widespread public mistrust in law enforcement," said David Johnson, the author and ex-police officer behind this incredible story.
Written from a first-person perspective with intriguing insights into the thought processes of law enforcement officers and criminals, readers will find Falling Off the Thin Blue Line difficult to put down. The author, who used a pseudonym to protect himself, writes candidly about his usage and eventual addiction to steroids. Despite most peoples' moral stance on the topic of steroids and drug abuse, the reader can't help but to identify with the author's struggle against his demons and grant him a modicum of respect. This book will disrupt the nation's current views on steroids and the reader will never look at law enforcement the same way again.
David Johnson no longer works as a law enforcement officer. Falling Off the Thin Blue Line is available at bookstores across the nation and online at http://www.thin-blue-line-book.com , http://www.iuniverse.com , and http://www.amazon.com.
# # #