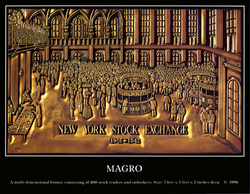 New York Stock Exchange 1901-1942.
Beverly Hills, CA (PRWEB) September 4, 2007
Internationally acclaimed artist Mario Magro has announced a "Million Dollar Challenge" inviting Wall Street firms, financial institutions and wealthy individuals to establish a long-term fund to provide education and training for orphaned and abandoned children. The "Million Dollar Challenge" is being launched in conjunction with the Mario Magro Kiss For a Cause Foundation (KFAC) online auction of "New York Stock Exchange 1901-1942," a limited edition series of multi dimensional cast bronze art pieces created by Magro.
The first piece, 1/100, which is valued at $50,000, will be donated to Mario Magro Kiss For A Cause Foundation and auctioned off on Charity Folks in support of orphaned, homeless and abandoned children. Twenty-five percent of the net proceeds raised will be distributed to programs and scholarship funds dedicated to orphans of the 9/11 victims. The series is limited to 100 individually numbered pieces with the total acquisition value placed at $5 million.
"I see a strong opportunity to partner with a strong financial firm in the acquisition of the remaining 99 pieces in the next three months before KFAC auctions the pieces off separately," Magro states. "Upon completion of the acquisition, we will work with the bankers to set up long term funds in support of the children's training and education programs with a minimum contribution of $1 million donated to the foundation, hence the 'Million Dollar Challenge,'" he explains.
"There are many long term benefits for both the investment firm and the foundation in this partnership," says Magro, noting that as the foundation develops, he anticipates the fund growing to substantial numbers. "I don't think we are ever going to find a solution to these problems, but we can make a difference to a group of children," Magro concludes.
About "New York Stock Exchange 1901-1942"
In 1986, Mario Magro created a magnificent work of art called the "New York Stock Exchange 1901-1942." The original work was hand carved out of wood and used as a master to create a series of 100 cast bronze pieces sized at approximately five ft. long by three ft. high. The work depicts the old stock market, which closed April 26, 1901. Time stood still for a brief moment while a photograph was snapped - the calendar date appears on the wall. The image of the old stock exchange merges with the newer building of 1942, which is noticeable in the architecture. The people to the left are dressed in the period of 1901 and they merge with the people of 1942. There are approximately 400 stock traders and onlookers portrayed in the work of art. The piece combines the two eras and captures the heart and lifeline of the market and financial industry as we see it. The stock market has always been a symbol of American liberties - the major core of our financial structure and who we are - and this work of art captures it all.
About the Artist
Mario Magro first achieved international media recognition in 1989 for his sculptures of (then) president Ronald Reagan and Soviet leader Mikhail Gorbachev. Magro created the sculptures as a gift to the world leaders in honor of the signing of the nuclear peace treaty. In 2003 he launched his signature Mario Magro Handbags, a unique product based on the concept of creating art and architectural design within fashion. The centerpiece of Mario Magro Handbags is the Le Coop, an ingeniously crafted bag distinguished by a wall of dyed crystal and glass in diamond or signature cross cut patterns housed in an exchangeable acrylic shell. Celebrities including Halle Berry, Elizabeth Hurley, Sharon Stone, Sela Ward, Kimberly Stewart, Leelee Sobieski, Jenny McShane, Janice Dickinson, Sarah Buxton, and Bai Ling are all avid collectors of the Mario Magro Handbag line.
About Mario Magro Kiss For a Cause Foundation
Mario Magro Kiss For A Cause Foundation (MMKFACF) is dedicated to the protection of orphaned, homeless and abandoned children. Internationally, there are 140,000,000 children suffering from extreme poverty. MMKFACF's mission is to house, feed and educate orphaned and abandoned children. Kiss For a Cause Foundation was born when Magro came up with the ingenious idea of having celebrities kiss and sign the panels of his Crystal Le Coop handbags and then auction them off for charity. MMKFACF has hosted a number of celebrity online auctions with participants ranging from some of the biggest names in country music including George Strait, Vince Gill and Michelle Branch, to international top models Traci Bingham and Joanna Krupa. For more information on the foundation please visit http://www.kissforacause.org
About Charity Folks
Charity Folks is the leading online marketplace for nonprofit fundraising, corporate-cause marketing campaigns and celebrity-driven charity events, a cross-market penetration that has made them the "go-to" in the field of ePhilanthropy. Among Charity Folks' special partners are hallmark nonprofits including Entertainment Industry Foundation and The World Wildlife Fund; A-list celebrities, such as Alicia Keys and Morgan Freeman; and top-brand corporations, including Toyota and Esquire Magazine.
###