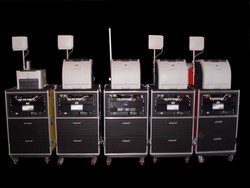 The system gives the tour an exceptional ability to manage bandwidth, which can be limited on the road. On most large tours the Internet is completely swamped by 4 p.m. We are able to make sure that tour management and production have access no matter how intense the demand is.
Chicago, IL (PRWEB) September 29, 2007
Justin Timberlake and Hilary Duff are two artists whose musical tours now include an IT professional as well as the other musicians and show specialists.
"The teams working behind Justin Timberlake and Hilary Duff are innovators," said Janet Rogers of WANetics, LLC , the Chicago-based company supplying on-the-road Internet-based communications for the shows. "Audiences have never seen anything like these featured shows. And those working behind the scenes have never been so well connected. The tours manage their communication costs by traveling with their own systems. Instead of using the network and phone system provided at each venue, Timberlake's and Duff's enormous entourage of musicians, dancers, crew, and drivers tour with a system designed by our company."
Rogers points out that a successful summer Rock/Pop concert does not depend solely on an artist with a ton of sex appeal, the latest dance moves and a bass-heavy sound system…though it never hurts. "The Justin Timberlake FutureSex/Loveshow might be the biggest tour of the 2007 season. The musician, actor and fashion icon has been going double platinum since he was a teenager, but behind every great entertainer is a network of people working hard to keep the artist fresh in the public eye. Having just completed its first leg in North America, the tour hit Europe hard through July and is back for the second U.S. leg. Justin Timberlake certainly leaves his mark in a big way as the tour makes its way around the globe. While his album tears up the charts in the U.S., Timberlake and his crew will head to Australia, New Zealand and beyond to amaze his fans from Down Under."
Hilary Duff has sold more than 13 million albums worldwide and is equally busy. The popular teen queen will sing, dance and charm fans in the United States and Canada this summer.
What do both these hugely successful performers have in common aside from millions of loyal, screaming fans? They both employ a network of technicians, handlers, managers and various other support staff to keep the tours running smoothly.
For those minding the money, communication expense is a line item at settlement that also bears the mark of a modern tour's need for unfailing links to people and data around the globe.
A single show can include thousands of dollars worth of Internet connections, phone lines and usage. Communication is constant, and often costly. In years past, a major tour would require up to two dozen phone lines and up to half a dozen Internet drops. With conventional technology, the bill would often be in excess of $5,000 a show.
Instead, the Justin Timberlake and Hilary Duff tours are accompanied by a technician from WANetics. Each tour group uses a single Internet drop at each venue. The system distributes this one signal wirelessly to each of five offices (production, promoter, tour management, accounting, crew) using a frequency that travels comfortably through walls but does not interfere with WiFi. Within each tour office is a single road case that contains a laser printer, WiFi, customized storage for phones and cables, and an advanced Power over Ethernet switch. This switch provides a network connection as well as power to each phone.
Each case contains a voice application layer gateway that supports up to eight VoIP phones per office. This advanced device ensures that phone quality is excellent throughout the world, even when Internet quality is limited. Managed and monitored, the system remains reliable and tuned to the tour's requirements no matter what city the group might find itself in.
In practice, the establishment of the communications systems in any given city on the tours is quick and easy. The technician receives the first road case during load-in and performs some minimal configuration to connect to the local Internet. Within minutes, Internet and phone capability is up on the first office and begins to spread to the other offices.
Every member of the office staff has his or her own dedicated extension on a fully-featured corporate phone system. Voicemail and extension dialing within the tour are the same in every city. Incoming fax numbers never change and are routed by email to all the right people. Calls are sharp and voices are clear.
Secure WiFi is available throughout the venue for the entire tour. Networked printing on color laser printers is available to everyone on the tour's own traveling corporate network. In minutes, the entire tour is going about the business of communicating with each other and with the rest of the world.
The VoIP technology permits a consistent U.S. presence number to be used throughout the tour. It also facilitates international presence numbers so that in Europe or Australia, for instance, U.S. callers can use the primary U.S. number, while International callers can use numbers based out of other cities such as London, Frankfurt or Sydney.
According to Steve Dixon, Business Manager for the Justin Timberlake FutureSex/Loveshow, "With traditional service, telecom bills for a large arena tour could cost thousands of dollars a night. WANetics offers a truly professional grade WiFi and VoIP system that can save any tour a lot of money." The tour is even able to provide several free phones for public use throughout the backstage area, allowing crew members to phone home at no charge.
Janet Rogers, CEO of WANetics, explains, "The system gives the tour an exceptional ability to manage bandwidth, which can be limited on the road. On most large tours the Internet is completely swamped by 4 p.m. We are able to make sure that tour management and production have access no matter how intense the demand is."
While a group tours, the system knows the tour schedule and keeps the auto-attendant and greetings up-to-date and communications in step. WANetics technology can be found this season in other tours including Genesis, Incubus and Guns 'n Roses.
WANetics touring partners include Tour Tech Support (http://www.tourtechsupport.com), Road Radios (http://www.roadradios.com), Music Tour Management, MT Cases, (http://www.mtcases.com), Edgewater Networks (http://www.edgewaternetworks.com), Polycom (http://www.polycom.com), and Cisco (http://www.cisco.com).
For more information about WANetics and touring VoIP systems, visit http://www.wanetics.com/touring.
###