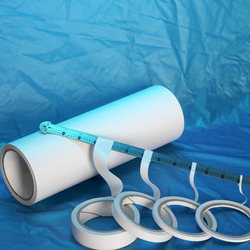 Riverhead, NY (PRWEB) September 4, 2007
(PRWEB) September 4, 2007 -- Adchem Corporation, a leader in high performance film and foam bonding adhesive tapes, offers a new 7740 series of high shear, high temperature adhesive transfer tapes with bond strengths sufficient for splicing metal coils and other demanding applications. Testing has demonstrated resistance to thermal cycling, salt solution, acid, brake fluid and UV environments.
The 7740 high performance transfer tapes are part of Adchem's broad range of bonding solutions used in automotive, construction, electronics and general industrial applications. Adchem's 7742-74 and 7745-74 durable transfer tapes, 2-mils and 5-mils respectively, consist of a pressure sensitive acrylic adhesive system and provide excellent shear strengths at elevated temperatures up to 300 degrees Fahrenheit. Fiber reinforcement provides stability when the tape is slit to widths as narrow as 1/8-inch. Adchem's adhesive transfer tapes feature excellent adhesion to metals and plastics, including low surface energy substrates.
Adchem provides acrylic and rubber adhesive systems and acrylic/rubber hybrid products for OEMs and fabricators worldwide. A leader in the engineering of transfer tapes for more than 42 years, Adchem provides more than 50 unique adhesive systems in hundreds of product configurations to meet customers' most demanding bonding needs. This broad range of products reduces the need for large inventories of more expensive, narrower spectrum systems. Adchem also offers competitive pricing and engineering support that are unmatched by both smaller and larger adhesive tape suppliers.
About Adchem Corporation
Adchem, an ISO 9001 certified and A2LA accredited company, engineers and manufactures high performance film and foam bonding adhesive tape systems, including double-coated papers, films, tissues, foams and fabrics; transfer tapes; one-side coated products and other custom-coated specialty products. Our 100 percent solids adhesives, solvent and water based acrylics and rubber adhesives are used in a variety of industries, including automotive, construction, electronics, graphic arts, medical, sound and vibration damping and general industrial tape applications.
For additional information and samples, please contact Adchem Corporation, 1852 Old Country Road, Riverhead, NY 11901 Phone: (631) 727-6000 Fax: (631) 727-6010 or our website at http://www.adchem.com .
# # #