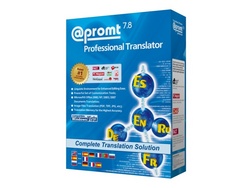 St. Petersburg, Russia (PRWEB) September 3, 2007
PROMT, a leading provider of automated translation software, has released new versions of its award-winning machine translation applications to provide compatibility with Windows Vista and integration with Microsoft Office 2007 applications.
New @promt Personal 7.8 translator is ready-to-use translation software that provides fast and accurate translation of documents, web pages, and PDF files. An essential tool for the traveler or international businessperson, it provides instant access to foreign language information on the web and in data files; translated web pages retain layout and navigation links for ease of use.
@promt Office 7.8 translator is designed for everyday use in small businesses and home offices as well as for personal use. It provides translation of documents, e-mails, web pages, and even the text content of graphic files using integral optical character recognition software licensed from IRIS. @promt Office enables users to quickly get the gist of foreign language text, provides instant lookup for individual words and phrases, and integrates directly into Microsoft Outlook, Adobe Acrobat and Adobe Acrobat Reader.
@promt Professional 7.8 translator is intended to meet everyday business requirements and incorporates a wide range of translation customization options to fine-tune translation results for the needs of individual businesses. It is ideal for business environments in which multilingual written communications, international competitive intelligence, and cross-border document processing and communications are required, in effect enabling the corporation to create an in-house translation agency.
@promt Professional integrates with Microsoft Office applications (including Outlook, Word, Excel, PowerPoint and FrontPage) and with Adobe Acrobat, translates websites on-the-fly, and extracts and translates the text element in graphic files. Support for Associated Memory databases provides time-saving efficiencies and standardized terminology when translating multiple similar documents.
@promt Expert 7.8 translator is the most advanced translation software system in the range, providing a comprehensive range of expert translation tools. In addition to all the functions available in @promt Professional, @promt Expert enables translation agencies and multinational enterprises who work heavily with SDL TRADOS® Translation Memory system to fine-tune their results, along with terminology mining and the automatic creation of topic-specific dictionaries.
A complete product comparison table is online at PROMT corporate website
Availability
@promt 7.8 products are available in English, French and Spanish and may be purchased online or as boxed products as follows:
English language automated translation products
French language automated translation products
Spanish language automated translation products
Pricing
English language products support English to and from Russian, Spanish, German, French and Portuguese/Brazilian Portuguese languages; the product can be licensed for one language pair or all five as follows:.
@promt Personal 7.8 (1 language pair license) - $29
@promt Personal 7.8 (5 language pairs license) - $49
@promt Office 7.8 (1 language pair license) - $99
@promt Office 7.8 (5 language pairs license) - $169
@promt Professional 7.8 (1 language pair license) - $295
@promt Professional 7.8 (5 language pairs license) - $499
@promt Expert 7.8 (1 language pair license) - $595
@promt Expert 7.8 (5 language pairs license) - $995
Discounts are available for online purchases.
About PROMT
PROMT was founded in 1991 with the goal of creating tools to enable people to communicate easily and effectively, breaking down language barriers between them. Today, the company is a leading provider of innovative machine translation solutions for web sites, corporate intranets, PCs and handheld devices under the trademark @promt. The company offers automatic bidirectional translation in seven languages: English, German, French, Spanish, Portuguese, Italian and Russian, with a total of 24 translation directions for over 100 specialized domains. Customers include AOL, Siemens AG, NASA, DaimlerChrysler, DHL, and Metro Group. Further information is available at http://www.e-promt.com.
###