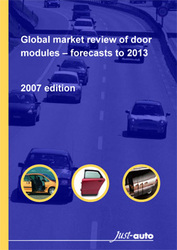 We see a number of advantages to using natural fibres and especially wood chip fibres
Bromsgrove (PRWEB) September 5, 2007
Vehicle makers are increasingly looking to outsource the manufacture of complex door modules, according to research undertaken by automotive industry website just-auto.com.
just-auto's research suggest that in outsourcing a door module to a specialist system provider, a vehicle maker can typically gain weight savings of 10 percent and cost savings of up to 20 percent.
Jean-Marc Belmond, director of product engineering for ArvinMeritor's door systems business, points out two distinct benefits that the automaker can derive from sourcing door module business.
"Firstly as the supplier of the world's very first sealed door module in 1968, ArvinMeritor has a proven and unparalleled level of experience that allows us to properly manage the total cost optimisation of the product. Our understanding of door design and of modular applications on OEM production lines allow us to design exactly the type of module required, in either steel or plastic, to realise cost savings.
"The second benefit is that ArvinMeritor has a unique level of systems expertise in the industry as we design and manufacture all the key components within the module. Our full portfolio of window regulator, electric motor, door latch and electronics products gives us the knowledge to integrate them intelligently, robustly and for the maximum cost effectiveness."
While the majority of door modules use a steel carrier, plastic solutions are becoming increasingly popular.
Brose GmbH reckons that using door systems with plastic carriers makes them lighter than conventional steel carrier modules, resulting in weight savings of up to 3 kilograms per car.
In addition to weight savings, better noise absorption and increased design possibilities make using plastic for the door system carrier appealing for vehicle makers.
There is also a trend towards the greater use of natural materials in doors.
"We see a number of advantages to using natural fibres and especially wood chip fibres," said Heinz Josef Rüsche, product director for Faurecia's door business.
"First, there is a plentiful stock which results in stable pricing independent from the harvest results of a one year's plant. Second, the use of natural materials helps reduce weight of the door panels. Third, we have found that wood fibre has good manufacturing process characteristics. Wood chip fibres are currently used inside the door panel carrier of various Mercedes-Benz models like SLK, S Class, Ford vehicles like Fiesta, Fusion, Opel cars like Corsa and others."
The full just-auto.com report, 'Global market review of door modules - forecasts to 2013' is available from http://www.just-auto/doormodules.
About just-auto
Since March 1999, http://www.just-auto.com has developed into the most respected and fastest growing automotive trade site globally. just-auto's unique news and research content is produced and sourced via a dedicated editorial team, worldwide network of correspondents and content partnerships. In addition, the just-auto.com research store provides instant access to over 4000 market reports.
# # #