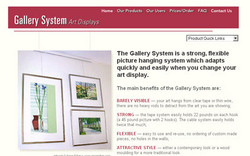 Wellesley Hills, MA (PRWEB) September 4, 2007
Discovering products that save both time and money is like striking gold in today's hustle and bustle world. Gallery Systems has developed a way to accomplish both when displaying art in homes, galleries, schools, libraries, churches, as well as business and commercial settings. Their picture hanging system makes hanging pictures with wire or clear tape, and lighting them in the same step, a contemporary and attractive way to display art.
Setting itself apart from other picture hanging systems, Gallery Systems offers two ways to hang artwork without taking away from the art itself. Hanging pictures with wire or clear tape from a sturdy aluminum track makes changing artwork easy and prevents drilling holes in walls, which can result in costly and time consuming repairs each time a change is made. Strong enough for heavy pictures and mirrors and ideal for both residential and commercial locations, this method also includes a lighting option that locks directly onto the same track used to hang the art.
According to Gallery Systems' President Ron Orner, "When deciding on an art hanging system, customers should look at many factors: flexibility, ease of use, as well as appearance. One of the largest advantages a Gallery System offers is that of being unobtrusive. The clear tape system fades into lightly colored walls, leaving the focus on the artwork and not on the hanging system. For customers wanting a more modern look for their location, or for those needing a system which will hold more weight, our stainless steel cable system has a cable of 1.2 mm in width - barely noticeable, so that again, the focus remains on the artwork and not on the hanging system."
For Gallery Systems, providing reliable, quality picture hanging systems is just the beginning. Gallery Systems works personally with all customers to determine effective solutions for hanging their art. Providing more than just the hardware is essential to offering a positive customer experience. Orner goes further to say, "In this high tech day and age, the personal touch is often lacking. That is not the case at Gallery Systems, where customer service and customer satisfaction remain our top priorities. Not only do we stand behind our products, but we also work one-on-one with all of our customers to ensure each and every order is accurate and appropriate to the customer. We want the purchase process to be a pleasant experience from the initial inquiry to the hanging of the artwork on the system."
Maintaining excellence in their products and customer service, GallerySystems.com is a convenient resource for viewing products, reading instructions for hanging pictures with wire or the clear tape system and obtaining ordering information. For more information about their hanging systems and how to use them, please visit GallerySystems.com.
About Gallery Systems:
Gallery Systems offers quick and easy solutions for hanging artwork in homes, businesses, galleries and other organizations. Ron Orner, who started this company in 1995, brings a business development and consulting background to the company, ensuring quality products and excellent customer service.
# # #