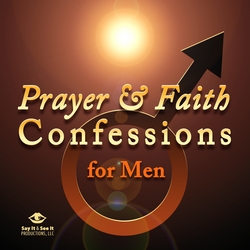 believe and speak the Word of God.
Waldorf, MD (PRWEB) September 6, 2007
In a their latest release, Say it & See It Productions, LLC responded to recent emails from unnamed sources who have labeled the Prayer & Faith Confession CD's as nothing more than "name it & claim" it or "Blab it and grab it." In what can only be described as an "Righteous Indignation" Shawn Cook and Patrick Jackson (Owners of Say It & See It Productions) responded in kind.
"We are not naming or claiming anything that can't be found in the Word of God," said Shawn Cook, Author of the Prayer and Faith Confession CD's, "Prayer Coach" and Co-Owner of Say It & See It Productions, LLC. "What we have done with this series of CD's is re-introduced biblically based meditation to the body of Christ. The Bible says in Colossians 2:6 that the same way that 'we' received Christ is the way that 'we' are to remain in Him. We received Christ (according to 'my' bible) by believing in our hearts and confessing with our mouths. The prayer and faith confession CD's are a tool that allow the Christian believer to take advantage of their salvation through the principle practice of believing and speaking Gods word. All of the earth has been waiting for the manifestation of the Sons and Daughters of God. How do you recognize a Son or Daughter? They act just like their Fathers. Our Father in Heaven functions by speaking and 'we' must learn as believers and children of God to do the same thing."
"I'm actually glad that people are talking about this," said Patrick Jackson Co-Owner and Co-Producer for Say It & See It Productions, LLC. "People really have to learn to watch their words and learn to speak the way that God speaks. Even Jesus said that 'we' would either be justified or condemned by our words. I actually welcome the discussion."
"Everything that we are doing is a direct response to what we consider to be an attack on families" says Shawn Cook, Author of the Prayer & Faith Confession CD's..."With the increasing volume of families being destroyed through divorce, the explosion of violent and lewd behavior being proliferated throughout the World on a daily basis and mounting financial woes affecting our families, Men & Women are no longer able to rely on the church alone to empower them to stand strong in their faith." "As Christian believers "we" need to begin to rise up and take "our" place by speaking the Word of God with the power and authority that God has given "us" in the earth to take dominion on His behalf. This power is released (principally) as "we" believe and speak the Word of God."
For further information, visit http://www.prayerandfaithconfessions.com
###