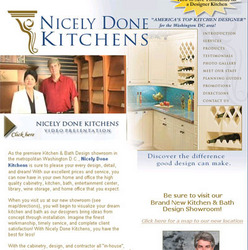 Our 'Extra Mile Service' extends to every area of our projects, from the minute our customers make contact with us, up until the final walk-through.
Springfield, VA (PRWEB) September 5, 2007
Tackling a kitchen and bath remodeling job may initially seem like a daunting task, but with the right team handling the project, remodeling can actually turn into a pleasant experience. Handling every aspect of the remodeling process, now including project management for each remodeling job, Nicely Done Kitchens manages each project from the first consultation through to the last handshake when the job is complete. A comprehensive solution for kitchen and bath remodeling services, Nicely Done Kitchens handles all consultations, kitchen and bath designs, ordering materials and the installation, managing all of it to ensure the project unfolds smoothly.
President Evelyn Nicely stresses, "Our 'Extra Mile Service' extends to every area of our projects, from the minute our customers make contact with us, up until the final walk-through."
Nicely Done Kitchens starts the process with an in-home consultation for an evaluation and to obtain measurements. The next consultation takes place in the showroom, reviewing kitchen and bath designs, budgets and materials. Once a customer agrees to move forward, the project continues with additional appointments until the job is completed. Along the way, Nicely Done Kitchens oversees each element of the remodeling, conducting consultations and working with customers on kitchen and bath designs. All projects are designed by a team of highly trained designers with extensive experience. Nicely Done Kitchens also orders all materials needed and installs all cabinets, countertops, flooring, appliances, sinks, faucets, lighting and other components.
"Our award-winning designers have degrees in Architecture and Design, and have been featured in national publications," says Nicely.
For those customers who are considering an updated kitchen and bath design but are not looking to dive into a full-fledged remodel, the KitchenLite program at Nicely Done Kitchens handles more limited changes such as flooring and appliances and is ideal for those on a smaller budget. Customers can also visit the kitchen and bath design showroom at Nicely Done Kitchens and view all of the materials and fixtures available for a remodeling project, including appliances, countertop surfaces, faucets, sinks, cabinet knobs and more.
For more information about Nicely Done Kitchens, please visit NicelyDoneKitchens.com.
About Nicely Done Kitchens:
Nicely Done Kitchens offers the complete package for kitchen and bath design and remodeling. Evelyn Nicely, president of Nicely Done Kitchens, was named the "Rising Star of 2005" and has been featured regularly in Signature Kitchens and Bath magazine as well as many other publications. Nicely Done Kitchens has been mentioned and interviewed on HGTV.com as well as a number of national publications.
###