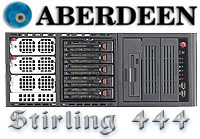 We are excited about our new 4x4 server, and feel that the Stirling 444 can maneuver through the toughest of computational terrains
Santa Fe Springs, CA (PRWEB) September 4, 2007
Aberdeen LLC, the Custom Server Solution Provider, and Supermicro Computer, Inc., a leading manufacturer of high-quality motherboards, have joined forces to deliver an innovative HPC server solution. Featuring the 4-way quad-core Intel® Xeon® Processor 7300 Series, Aberdeen's Stirling 444, high-performance server, caters to enterprise server markets such as; grid computing, HPC (High Performance Computing) and EPIC (Explicitly Parallel Instruction Computing).
"We are excited about our new 4x4 server, and feel that the Stirling 444 can maneuver through the toughest of computational terrains," states Moshe Ovadya, President of Aberdeen.
The award-winning Aberdeen Stirling line of high-performance rackmount servers utilizes the quad socket, quad-core Intel® Xeon® Processor 7300 Series to combine high performance processor technology, power efficiency and reliability into every customizable server. The multi-processor Stirling 444 is a multi-tasking beast that delivers the best value in multi-processing and delivers optimal performance in clustered environments.
"Intel and Aberdeen both work to deliver high-performance and innovation for server customers," said Boyd Davis, general manager, Intel's Server Platform Group Marketing. "The Aberdeen Stirling 444 server is a great example, incorporating the industry-leading performance, efficiency and dependability of the new 4-way Quad-Core Xeon processors."
The Stirling 444 is effectively a 16-core supercomputer available to perform highly calculation-intensive tasks such as quantum mechanical physics, weather forecasting, climate research, molecular modeling, flight simulations, AI, graphic rendering and 3D modeling. As for multitasking, the quad-core multi-processor Stirling provides intensive computational power by off-loading certain tasks to specific cores, thus freeing up additional processor resources for other tasks and resulting in improved productivity for universities, military agencies, scientific research laboratories, game development, digital media design, film and video rendering.
The Aberdeen Stirling HPC servers offer; quad-core quad-processor support with a 1066Mhz front side bus, low energy consumption, 8MB Cache, up to 192GB of fully-buffered DIMM DDR2 memory, redundant 1200W power supply and SAS storage technology for premium disk drive performance and SATA compatibility for a maximum of 5TB storage capacity. Starting around the $8000, the Stirling 444 provides high-performance 16-core processing and delivers radically increased throughput, capability and reliability.
Features:

Multi-Processor Quad-Core Intel Xeon 7300 Series
Premium high-end computing performance
Dedicated high-speed interconnects for improved data bandwidth
Chipset Snoop Filter for reduced chipset traffic
Fully buffered DIMM Memory
192GB capacity
SAS Hard Drive Support
3Gb/s transfer speed - (faster than SCSI)
Availability and Support:
Aberdeen offers its high performance multi-processor quad-core Intel Xeon based Stirling HPC servers in 1U, 2U and 4U rackmount sizes. The Stirling 144 is a space saving, cluster friendly 1U rack-dense server while the Stirling 244 2U offers up to 6TB of storage capacity. All models are currently shipping with worldwide availability. Aberdeen can custom configure any server to meet even the most stringent requirements. Aberdeen has a media recognized, industry leading 5-year limited warranty as well as a free 10-day trial assessment program with all of its branded server solutions.
Media Contacts:
Trenton R. Baker
Marketing Supervisor
Aberdeen LLC
562-699-6998 x153
Jack Tateel
VP of Sales
Aberdeen LLC
562-699-6998 x157
About Aberdeen LLC:
Aberdeen LLC is a leading direct marketer of custom rackmount servers, NAS, iSCSI and SAN storage server solutions, computers and hardware. Voted among The Direct 100 vendors by PC Computing magazine Aberdeen designs, manufactures and customizes award-winning Aberdeen brand computer systems, Stirling rackmount servers, AberNAS storage appliances and backup storage servers while offering an extensive selection of high performance peripherals. For product sales, service or company information, call 800-552-6868 or visit http://www.aberdeeninc.com.
Aberdeen LLC is an Intel® Channel Partner Member:
Intel® Channel Partner Members deliver custom IT solutions for a variety of consumer and business markets. Aberdeen uses industry-leading Intel® platform products coupled with a high level of innovation to create IT solutions specific to customers' needs. To maximize technology investment, Aberdeen has access to training on the latest Intel products and solutions that are compatible with existing hardware and software solutions.
*Other names and brands are not affiliated with Intel Corporation.
Intel, the Intel logo and Xeon are trademarks or registered trademarks of Intel Corporation or its subsidiaries in the United States and other countries. Performance tests and ratings are measured using specific computer systems and/or components and reflect the approximate performance of Intel products as measured by those tests. Any difference in system hardware or software design or configuration may affect actual performance. Buyers should consult other sources of information to evaluate the performance of systems or components they are considering purchasing. For more information on performance tests and on the performance of Intel products, visit Intel Performance Benchmark Limitations (http://www.intel.com/performance/resources/limits.htm).
# # #