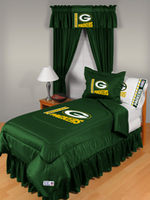 The most obvious thing to do is to paint the walls with team colors, but there are more options than just that
Tulsa, OK (PRWEB) September 4, 2007
The end of summer signals the beginning of football season, which is the most important sports season for many Americans. The Super Bowl, the culmination of NFL play, is regularly one of the most-watched programs on television.
For those football fanatics who eat, breathe and even sleep football, Tony Brobst, the president of Image Bedding, has some home decorating tips.
"Everybody's got one in the family," Brobst said. "Someone who is just absolutely obsessed with football and with their favorite team. By decorating their room with their favorite NFL team logo bedding, you'll be giving them an amazing gift. Who wouldn't want to wake up every day surrounded by their favorite things?"
First, Brobst suggests starting with the walls, since these will likely take the most time to do.
"The most obvious thing to do is to paint the walls with team colors, but there are more options than just that," Brobst said. "If you're feeling really creative and artistic, a football mural on one wall or a poster collage over your NFL bedding could be a really nice addition."
There are also a number of ways to incorporate accessories and decorations. Football posters and NFL team logo wall hangings are one way to go, but shadow boxes add a more personal touch.
"You can take a team jersey and make it the centerpiece, and add game tickets, autographs and pictures around it," Brobst said. "That makes it more than just a generic wall decoration. It's actually got your creative spirit in it."
Of course, the biggest piece of any bedroom is the bed, and that's what will draw attention first. According to Brobst, NFL bedding is the easiest way to add team spirit to a room.
"The bedding is going to be the centerpiece of the room, which means it has to tie in the rest of it together," Brobst said. "With NFL team logo bedding, you've got the colors in the bed that you've used in the rest of the room. Plus, with football bedding, football fans can fall asleep under the symbol of their favorite team."
An NFL-themed room would make a football fan's dream come true. Image Bedding offers NFL team logo bedding for every football fan, from the Arizona Cardinals to the Washington Redskins. For more information about football bedding and home décor, or to see Image Bedding's full line of NFL team logo bedding products, visit them online at http://www.ImageBedding.com.
About Image Bedroom
The corporation behind Image Bedding has been in business since 2001 and is based in Tulsa, Okla. The online outlet carries a wide variety of bedding and home décor in themes ranging from college logos to wildlife. Designed to be a one-stop shop for all your bedroom decorating needs, Image Bedding can help you fill your rooms with the colors and images that represent your personality and lifestyle.
Press release and search engine promotion by Xeal Precision Marketing
###