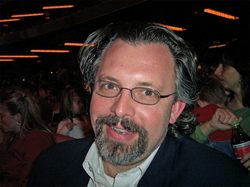 Working with Tom makes me think about how John Lennon and Paul McCartney may have written songs
Warwick, NY (PRWEB) September 6, 2007
What if a fairytale offered more than a moral? What if a story provided a young reader not only an expectation of how to treat others, but also a road map to a future of personal success and happiness? The Three Pigs, Business School, and Wolfe Hash Stew is the genuine, traditional fairytale, but Matthew S. Field takes it further.
On September 12, 2007, Matting Leah Publishing Company of Warwick, New York officially releases The Three Pigs, Business School, and Wolfe Hash Stew. The new title is the follow-up to Matthew S. Field's commercially and critically successful debut, Father Like A Tree, which remains rated among the top one-half of one percent of all children's books at Amazon.com.
"(The) Three Pigs is similar to Father Like A Tree in that parents will enjoy the story as much as their children will," says Field. "The wolf, B.B. Wolfe, symbolizes any of life's little potholes. For the child, B.B. Wolfe, might represent a schoolyard bully or a difficult math test. For parents, B.B. Wolfe could be the loss of a job or a natural disaster," Field adds. "The moral for everyone is, with family and a little perspective, we can get through just about anything."
Matthew S. Field once again combines forces with award winning artist and illustrator Tom Hedderich. "Working with Tom makes me think about how John Lennon and Paul McCartney may have written songs," according to Field. "It just seems to click." The result of the Field and Hedderich collaboration is a perfectly complementary, heirloom-quality book.
As a part of his promotional tour, Matthew S. Field will read and sign copies of The Three Pigs, Business School, and Wolfe Hash Stew at Baby Grand Books in Warwick, New York on Saturday, September 8, 2007 at 11:00 AM and at Borders Bookstore at the Galleria Mall in Middletown, New York on Wednesday, September 12, 2007 at 10:00 AM.
###