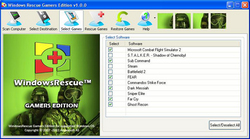 (PRWEB) September 5, 2007
Anovasoft is taking the challenge head-on to battle the time consuming task of reinstalling games by releasing the versatile WindowsRescue Gamers Edition on September 3, 2007. It covers must-have software for every gamer who is planning a Windows reinstallation or buying a new computer.
The only solution to completely free a computer for viruses and spyware is to reinstall Windows. The reinstallation of Windows in it self is no problem, but the hair graying job of reinstalling all the games is a whole different ballgame. Original CD's, DVD's and registration keys are scattered around the house or have somehow mysteriously disappeared. That's just the beginning of the nightmare. When finally it is time for the reinstallations, the user has to spend hour after hour in front of the screen in case a popup window demands an "ok" click during the installations.
The reinstallation nightmare is now officially over for those who let WindowsRescue Gamers Edition do the job for them. After a few clicks the user can hit the sack, and the next morning it's all done. All selected games are redeployed in a ready-to-run state. There are no need to use registration keys, CD's or any other media when WindowsRescue is in use.
Some of the advantages of WindowsRescue Gamers Edition are:

Easy and accessible user interface
Save you time and effort
Do not have to follow any installation procedure
Do not need any original CD's
Do not need any license keys
Collects product codes and product keys
One button restore function
You can handpick the games or use the Drag&Drop function
Gives you a more structured and specific backup
You can play XP Games on your Vista OS
Gives you a computer free of viruses, hijackers and spyware
Anovasoft will also release a Pro Edition in Q2 2008. The Pro Edition will be capable of redeploying software, games, mail settings and files.
WindowsRescue Gamers Edition free evaluation package can be downloaded from: http://www.download.com/3000-2121_4-10733252.html
###