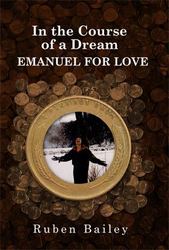 In the Course of a Dream Emanuel for Love
Washington, DC (PRWEB) September 10, 2007
Author Ruben Bailey's near-death experience has led to the release of his new book on enlightenment through the power of dreams. "In the Course of a Dream Emanuel for Love," Bailey demonstrates the power of dreams to transform and serve as a path of illumination to achieve cosmic consciousness and enter into a state of true enlightenment.
Ruben Bailey survived a near-death experience to find himself dreaming while awake. In his new novel, he tells about the dreams that followed this near-death experience. Within these altered states of consciousness, spirits would visit him in the dreams to awaken him. Bailey would wake up to find angelic beings hovering over his bed or standing beside him. They would then take Bailey on heroic journeys to reveal past lives, karmic patterns and other dimensions. In so doing, Bailey became aware of the great potential that lies within humanity to awaken to a multidimensional awareness of the cosmic self and transcend the physical plane of reality to become one with spirit and all of creation in every dimension of existence.
In his book, Bailey claims dreams are the key and pathway through which humanity will enter the Age of Aquarius. The message he brings is that enlightenment is not an esoteric concept, but can be realized by all, experienced consciously and used in a practical way to bring about a life of fulfillment.
The book is published through Lulu's print-on-demand and is available through most major online book retailers and through the book's online Web site located at http://www.emanuelforlove.org. The author is currently autographing copies purchased through the Emanuel for Love Web site. These copies are sure to become a collector's item.
The author is also donating part of the proceeds on the sale of his book to help support various charitable organizations, such as the Aid for Traumatized Children Project sponsored through the World Dreams Peace Bridge. For more information on the project, visit http://www.worlddreamspeacebridge.org.
For more information about "In the Course of a Dream Emanuel for Love" (ISBN 978-0-6151-5178-6), author Ruben Bailey and his near-death experience or enlightenment through dreams, visit http://www.emanuelforlove.org.
About Ruben Bailey
Ruben Bailey has been interested in dreams since 1995 when he began having a series of precognitive dreams and has been journaling them ever since. He holds a Master of Science in Information Systems from Strayer University and is currently pursuing a Ph.D. in Metaphysics from the University of Metaphysical Sciences. This is his first non-fiction novel. He maintains a website at http://www.pennyformythought.org.
About Lulu
Founded in 2002, Lulu is the world's fastest-growing print-on-demand marketplace for digital do-it-yourselfers. Please see lulu.com for more information.
# # #