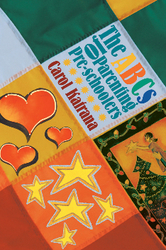 Houston, Texas (PRWEB) September 5, 2007
Carol Katrana's new book, "The ABCs of Parenting Pre-schoolers," evolved from the hundreds of presentations she has given to parents of young children during the past 20 years - and almost as many requests for a concise collection of her suggestions and observations.
The new book provides a simple, poignant source of parenting inspiration and quick, easy-to-remember reminders of how truly valuable parents are to their children.
According to Katrana, "I encourage parents of pre-schoolers to spend a little time with these ABCs and discover - or rediscover - what their little ones need in order to thrive at home and at school. This book is intended to offer encouragement from a voice of experience. It's not a dense textbook or a book on pre-school academics. Instead, it provides lessons in building strong parent-child relationships that create well-adjusted, academically successful children."
"The ABCs of Parenting Pre-Schoolers" (ISBN: 0-595-46240-5; $13.95, released by iUniverse, Inc.) can be ordered online at: http://www.amazon.com, http://www.iuniverse.com, or by calling 1-800-AUTHORS.
About Carol Katrana. For two decades, Carol has helped create fun, loving learning environments for thousands of children. A mother and former pre-school administrator, she is a graduate of the University of Tennessee and a Paul Harris Fellow. Carol's pre-school programs routinely received top ratings and yearly commendations. A frequent conference speaker and presenter, she and her husband, David, live in Houston.
Media Contact:
Jane Johnston Mumey
Powers MediaWorks LLC
Houston | The Woodlands, Texas
713.515.4450
###