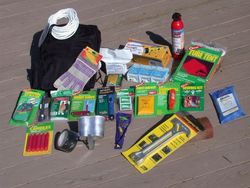 Whether it's a hurricane, flood, forest or brush fires, earthquake, tornado or other event, being unprepared for an emergency strains our infrastructure and can even put our loved ones in unnecessary peril
Fulton, NY (PRWEB) September 6, 2007
In the wake of the phenomenal destruction by Hurricane Dean, Camping Survival.com has announced new products in its selection of emergency urban survival kits, including kids survival kits. An emergency urban survival kit or "go bag" provides essential items individuals or families should have in the event of a natural disaster, such as MRE (Meals Ready to Eat), first aid kit, rain poncho and other items.
"Hurricane Dean was a Class 4 monster of a storm and the devastation it caused Mexico, the Yucatan Peninsula and elsewhere was phenomenal," said Tom Sciacca, President of CampingSurvival.com. "Now we are also witnessing incredible hardship from families hit by the Midwest flooding."
"These situations drive home the point that preparation is essential to keeping yourself and your loved ones safe," he continued. "Individuals, families and businesses should always be prepared for situations where they may need to escape quickly, as well as circumstances where they may need to survive an extended period in one place without electricity, water or other services. An emergency survival kit is an indispensable item to have ready during a natural disaster."
Among CampingSurvival.com's newest urban survival kit offerings is a kids survival kit, which includes a backpack, rain poncho, reflective solar space blanket, LED flashlight and a whistle. Depending on the age of the child, Sciacca suggests customizing the backpack further with MRE and water purification tablets.
Because situations arise where employees are stranded at their workplace, businesses should also be prepared with their own urban survival kits. CampingSurvival.com now carries a Group Survival Kit for Businesses, which is a go bag designed to sustain ten people for three days. It features more than 500 essential items, including:
AM/FM radio with battery
Flashlight with batteries
Candles and matches
Comprehensive first aid kit
Emergency blankets
Emergency manual
MRE food rations with a five-year shelf life
Infectious waste bags
Pry bar, rope and other tools
Water rations and water purification tablets
The concept of purchasing an urban survival kit or go bag has become more popular in the past two years ago after news reports highlighted the necessity of surviving the immediate aftermath of a natural disaster. With its new offerings, CampingSurvival.com now has more than two dozen pre-packaged urban survival kits.
"Whether it's a hurricane, flood, forest or brush fires, earthquake, tornado or other event, being unprepared for an emergency strains our infrastructure and can even put our loved ones in unnecessary peril," Sciacca continued. "An all-in-one urban survival kit, backpacks or go bag is so convenient to purchase and so complete, I can't imagine why a person wouldn't make this investment in safety."
Contact:
Thomas Sciacca
315-592-4794
http://www.campingsurvival.com
###