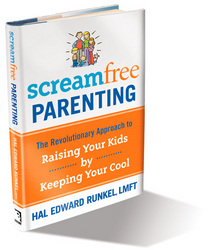 Parents get better results raising their children when they remain calm, cool and connected to them
Duluth, GA (PRWEB) September 6, 2007
ScreamFree™ Parenting: The Revolutionary Approach to Raising Your Kids by Keeping Your Cool (Broadway Books; September 4th, 2007; Hardcover; $21.95) by Hal Edward Runkel is not just another parenting book. It's the first parenting book that maintains -- from beginning to end -- parenting is not about kids…it's about parents. Runkel demonstrates how parents who pay more attention to controlling their own behavior, and not their kids', develop stronger, more rewarding family relationships, while simultaneously eliminating the stress and anxiety of child-rearing.
"Parents get better results raising their children when they remain calm, cool and connected to them," says Runkel, a Licensed Marriage and Family Therapist, and Father of two. Runkel created ScreamFree as a response to parents who felt overstretched, overcommitted, underprepared, and underappreciated. Drawing upon advanced family relationship concepts, his ScreamFree principles were forged in the personal trenches of the hundreds of families that he counsels each year.
Runkel maintains that what kids really need are parents who are able to keep their cool no matter what. What's more, kids need to learn that there are consequences--good and bad--to their actions. Through ScreamFree Parenting, parents can learn in a very practical way how to let go of some of the power (and a lot of the anxiety) of raising kids--and all without raising their voices by one decibel.
The fresh wisdom in ScreamFree includes:

If You're Not Under Control, Then You Cannot Be In Charge
Begin With The End In Mind, But Let Go Of The Final Results
Empty Threats Are Really Broken Promises
Resistance Is Futile; Practice Judo Parenting
Runkel tells parents to toss out the "you've-got-to-pick-your-battles" mentality that defines so many parent-child relationships, "Instead of considering your next trying interaction with your child as an impending Waterloo, consider this: in your child's developing growth, he is constantly testing you. In doing so, he is not plotting an invasion or laying an ambush. He is testing you so that he can see that you are dependable, stable, and consistent. And trust me, he desperately needs you to pass," he continues.
ScreamFree Parenting is parent-friendly guide to achieving the kind of love, joy, and peace we all seek for our families. Written in an engaging, conversational tone, Runkel shows the reader how to calm down and operate with optimism and confidence, rather than fear. This book is guaranteed to transform the parenting experience. "Our number one job as parents," says Runkel, "is to just stay calm."
About the Author:
Hal Edward Runkel is a Licensed Marriage and Family Therapist, relationship coach, and international speaker and is founder of ScreamFree Living, Inc. Hal contributes valuable parenting content regularly to magazines, newspapers, and top websites, including eHarmony.com, the #1 Trusted relationship service with more than 16 million registered users. He is also a regular guest on a number of popular radio programs including KZHT 97.1, #1 morning show in Salt Lake City, and is the relationship expert for the CW network's Daily Buzz show, and NBC's iVillage Live show, seen in more than one hundred and sixty U.S. markets. He and his wife, Jenny, have been married for fourteen years and enjoy ScreamFree parenting with their two children: Hannah, 10, and Brandon, 8. Hal lives outside of Atlanta. For more information, visit http://www.screamfree.com .
Contact:
David Markert
770-378-1123
davem@screamfree.com
# # #