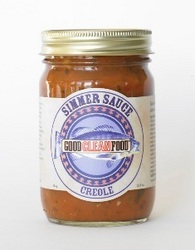 We started Good Clean Food to help busy people make quality, home-cooked meals quickly and easily
Portland, Maine (PRWEB) September 6, 2007 -
Maine's Good Clean Food http://www.goodcleanfood.com has secured its Series A round of funding of close to $1 million, company President Kurt Shisler announced today. This round leverages the innovative public-private investment opportunity the State of Maine provides to encourage economic development, he noted.
The news comes on the heels of the company's all-natural simmer sauces for seafood - Creole, Mediterranean and Scandinavian Dill - being picked up by a growing number of high-profile markets from Maine down to Kentucky. The company's fresh simmer sauces for dinner, available in the fresh seafood sections of Whole Foods and Hannaford markets, are truly unique because of their taste and convenience. There are no other similar products on the retail food market today. "We started Good Clean Food to help busy people make quality, home-cooked meals quickly and easily," said Shisler. "That model is catching on with folks, and that speaks volumes."
The Small Enterprise Growth Fund of Maine (SEGF) led Good Clean Food's recent funding round, which included a small group of seasoned investors and four of Shisler's Harvard Business School friends. Interestingly, two of Shisler's investors first enjoyed his made-from-scratch sauces during their first year of business school together more than twenty years ago, when the idea for his simmer sauces first presented itself to Shisler.
"Our funding through these important Maine programs, combined with support from individual investors, enables us to take the next step forward in building our successful company," Shisler said, "We'll now be able to develop new product lines, increase distribution, and open an expanded kitchen and production facility in Maine. In turn, we believe that we'll give back to the state in terms of the additional jobs and revenue we'll generate."
What makes Good Clean Food so different?
All Good Clean Food sauces are low-fat and low-sodium, and contain no additives, no antibiotics and no GMOs. "Our sauces provide busy families with the ability to enjoy healthy, savory meals together - without spending hours shopping, prepping and working at the stove," noted Rachel Ambrose, Director of Marketing for Good Clean Food. "Dinner preparation takes only 15 minutes from start to finish using our nutritious sauces. Just add fresh seafood or chicken to Good Clean Food sauces, simmer for 10 minutes, and the entire meal is ready."
Raves from Customers and Food Press:
Since their formal launch in May 2007, Good Clean Food dinner sauces have been earning favorable reviews from a growing customer base, as well as from an enthusiastic press corps. "Wow! [These sauces] make great meals for busy adults, and are 'kid-friendly' as well," wrote Jill Epstein, Publisher/Editor of Boston's Where to Eat. Good Clean Food's simmer sauces for seafood were also recently named an "Editor's Pick" by Taste of the Seacoast magazine, and quickly earned coverage in food press including Yankee Food Service and Maine's The Forecaster. Numerous food blogs have picked up news of Good Clean Food sauces for dinner, as well.
Customer raves have been no less enthusiastic: "I can't believe it, but thanks to Good Clean Food, my kids are happily eating fish," wrote one shopper in Portland, ME. "It makes ordinary fish taste amazing," according to a New York City customer, while a shopper in West Hartford, CT labeled the sauces "outrageously good."
Upcoming Expansion Plans:
Good Clean Food's Series A funding - and Series B plans for $2.5 million, currently underway - bode well for the company's continuing good prospects. Yet despite the resounding success of its simmer sauces for seafood launch, the company is not resting on its laurels.
In September 2007, Good Clean Food will launch its new line of simmer sauces for chicken at Whole Foods and Hannaford markets throughout the north Atlantic region. The chicken sauce flavors include Cacciatore, French Tarragon and Maine Cider, with an additional flavor, Balsamic Mushroom, slated for release in January 2008. Further plans for additional all-natural Good Clean Food products are underway, as well, to include grilling sauces, vegetarian sauces, and an added variety of special seasonal sauces.
The Portland, ME-based company plans to achieve bi-coastal distribution of its seafood and chicken sauces in select chain stores, according to Shisler. "We're moving forward with our plans for rapid growth one step at a time," he said. "Consumer response has been positive, and we're excited about the markets that have picked up our sauces. We're especially encouraged by the fact that we've been solicited by significant chains that are seeing the unique customer appeal of our sauces at Good Clean Food."
Resources for Press:
To download product photos, visit http://www.frontburnerpr.com/goodcleanfood.
For further product information and a list of distributors, visit http://www.goodcleanfood.com.
To request samples of Good Clean Food sauces,
or to request an interview with President and Founder Kurt Shisler, please contact:
Jen Beltz, Front Burner PR, LLC
Ph: 207/699-5500 jen(@)frontburnerpr.com
###