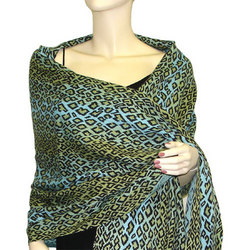 Animal print pashminas are not simply a current trend, they are a fashion necessity
Humble, TX (PRWEB) September 6, 2007
Tiger stripes and leopard spots never go out of fashion. Always in style, these hot new animal print pashminas from The Pashmina Store are of the finest quality, made in Nepal, and bring out the wildcat inside every woman. The new animal print pashminas are available in natural shades and designer colors such as green leopard, pink zebra, and orange tiger.
These new bold, sophisticated tiger, leopard, python, and zebra animal prints make the perfect holiday, anniversary, birthday or bridesmaid gift. Pashmina silk blend wraps come in size 28"x80" with prices starting at $69.99. Smaller scarf and larger shawl sizes are also available.
"Animal print pashminas are not simply a current trend, they are a fashion necessity," explained Nattakitta Rhodes, Vice-President of Design for The Pashmina Store. "Our selection of animal prints will liven up any warbrobe for years to come."
A Texas-based online retailer known for its consumer-friendly prices and the quality of its merchandise, The Pashmina Store offers only the finest pashmina and cashmere products that also come in a wide variety of solid colors including 2- and 3-ply wraps, blankets and scarves.
"Better Homes and Gardens," "Good Housekeeping Magazine," "Woman's World," "Southern Bride," "Inc," "The Atlanta Journal-Constitution," "Houston Business Journal," and many more have featured The Pashmina Store. The Pashmina Store offers fashionable, elegant pashmina scarves, wraps, shawls and cashmere baby blankets at affordable prices.
Prowl on over to http://www.thepashminastore.com.
About The Pashmina Store:
Established in 2003 by Blair Rhodes, The Pashmina Store website was born with the idea of going direct to the consumer to keep prices low and reach as wide an audience as possible. In early 2000, the family visited Nepal, and developed a great appreciation for pashminas. Seeing firsthand the care and tradition that goes into the making of pashmina goods, they developed a desire to share them with as many people as possible. Blair's mother, Charlene, started out doing "pashmina parties." The Pashina Store offers affordable prices on top quality pashmina and cashmere goods and free standard shipping in the United States.
Media contact:
Sue Hecht
The Winning Pitch
702-225-8206
###