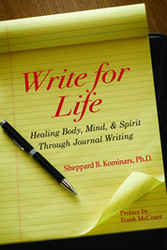 Write for Life: Healing Body, Mind, and Spirit Through Journal Writing.
Cleveland, OH (PRWEB) September 6, 2007
Cleveland Clinic Press, publishing arm of the Cleveland Clinic, has just released "Write for Life: Healing Body, Mind, and Spirit Through Journal Writing" by Dr. Sheppard B. Kominars. His book reveals a host of powerful insights and techniques for personal transformation that readers can start using today.
Adapted from Dr. Kominars' popular workshops presented throughout the United States, this journal-writing book provides opportunities for ongoing self-discovery through the use of time-tested tools that young and old alike can use to meet life's challenges and find deeper satisfaction in daily living.
"Write for Life" shows readers how to take advantage of secrets known to generations of journal writers the world over. Both beginning journalers and seasoned practitioners can learn ways to:

Confront emotional issues from the past
Break through frustrating mental blocks
Deal with personal, professional, or medical crises
Revitalize life's meaning and purpose
Free creativity
Act on dreams for a better life
"There's a big difference between writing 'Dear Diary, I saw him today…' and getting things off your chest that you'd rather not say out loud," says Dr. Kominars. "Compelling evidence supports the journal-writing process as a legitimate integrative therapy."
In his journal-writing book, author Kominars shows how and why this practice has such healing powers. How does he know? He's been journaling for more than fifty years and has recovered from a life-threatening health issue and survived other crises as well. Journal writing works for him, and he demonstrates how it can work for others, too.
"Why, oh why, didn't someone walk up to me when I was 25 and hand me a book like this?" - Frank McCourt, Pulitzer Prize-winning author
Purchase "Write for Life: Healing Body, Mind, and Spirit Through Journal Writing."
By Sheppard B. Kominars, Ph.D.
ISBN: 978-1-59624-077-3
Pages: 276
$14.95/trade paperback
About Cleveland Clinic Press
Cleveland Clinic Press is a leading medical book publisher whose mission is to improve health literacy and dispel myths associated with health and health care. The Press offers authoritative consumer medical guides and health books, including nutrition books, cancer books, healthy cookbooks, kids' books on health, and more.
About Cleveland Clinic
Founded in Cleveland, Ohio, in 1921, Cleveland Clinic is a not-for-profit multi-specialty academic medical center that integrates clinical and hospital care with research and education. "U.S. News & World Report" consistently ranks Cleveland Clinic one of the nation's best hospitals in its annual "America's Best Hospitals" survey.
For review copies, contact:
Kathy Maruschak - (216) 444-2315
For author interviews, contact:
Kathryn DeLong - (216) 445-5547
###