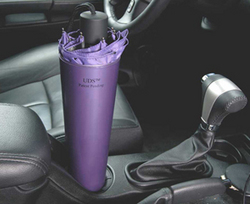 Pittsburgh, PA (PRWEB) September 6, 2007
Intromark Incorporated introduces The UDS® -- Umbrella Draining Solution, an umbrella accessory that drains the water from a recently used umbrella. The product is currently being sold on http://www.intromarkstore.com.
While it protects a user from the rain outside, a wet umbrella can cause a mess in a purse, vehicle or office. The UDS® provides an easy solution to the problem of wet umbrellas. By placing the wet umbrella into a high cup, the UDS® prevents a just-used umbrella from scattering water droplets. The cup is easily closed with a hinged cap to prevent water from spilling. Ideal for use in a vehicle, the UDS® is a thoughtful gift for birthdays or other special occasions.
The UDS® is a combination of a durable, storm-ready umbrella and a sleek 13-inch high cup with a metallic finish. Weighing 1-1/2 pounds, the highly portable, cone-shaped cup is capable of fitting comfortably into any vehicle cup holder, and is ideal for use at home, in the office or on the go. The product is available in five colors: mauve, purple, silver, yellow and burnt orange. Suggested retail price $19.95.
Intromark Incorporated, a new-product licensing and marketing firm, is seeking marketers and distributors in the automotive aftermarket and household industries. Intromark can also offer companies access to an ongoing source of patented and unpatented inventions matched to specific areas of interest. Access to these inventions is free to companies that manufacture or market new products.
For more information or for ordering, contact Intromark, 217 Ninth St., Pittsburgh, PA 15222; call (800) 851-6030 or (412) 288-1368; fax (412) 338-0497 or visit http://www.intromarkstore.com.
# # #