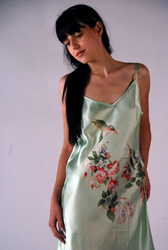 This is an essential connection that is missing from today's mass consumption market. Buyers who value the work involved in the creation of their effects are not merely consumers; they have taken the responsibility to become citizens.
Farmington, CT (PRWEB) September 7, 2007 -
A new line of elegant designer fashion apparel has been launched by Texere Silk, a business unit of New England Mercantile Group LLC (NEMG), a Connecticut-based global sourcing company.
This brand of designer silk garments and sleepwear aims to appeal to sophisticated individuals with a keen appreciation for art and a high sense of social responsibility. Besides stunningly beautiful hand painted silk scarves, the product range includes women's silk sleepwear such as silk night gowns, women's silk bath robes, women's silk pajamas, as well as men's silk bath robes and men's silk pajamas - all exquisitely hand painted reflecting a high taste in fine art.
This superbly sophisticated line of garments is especially appropriate for upscale bridal lingerie nightwear or wedding anniversary gift idea categories.
A business unit of NEMG - a global sourcing company that emphasizes its values of social responsibility - Texere Silk clearly has an attitude which begins with its name. The word texere has Latin roots and means "to weave." The company takes the meaning of its brand, and thus its mission, a little bit further.
As an innovative facet of its philosophy, the Texere Silk website will have a Meet the Artist section that introduces the various artists to the customer. The Meet the Artist program will evolve to the point of identifying the artists and workers involved in the production of a specific product; thus creating a connection between the Asian artists and the corresponding North American customers of that garment.
"We would like our clientele to really understand the art behind these products; and maybe even get to know some of the artists involved in the process" says Katherine MacCall-Fruin, the company's marketing manager. "This is an essential connection that is missing from today's mass consumption market. Buyers who value the work involved in the creation of their effects are not merely consumers; they have taken the responsibility to become citizens."
In addition to Texere Silk, the parent company also has other brands for home & industrial textiles, industrial gloves & sports equipment, as well as brands marketed to the architecture & design field - encompassing custom designed stone sculptures, art glass, mosaics, hand-carved furniture etc. etc. - and the theme of social responsibility is ubiquitous in all its work.
"Through these brands, we are advancing the preservation of native cultures around the world by promoting magnificent artistic items representing their heritage," said Azam Saeed, president of NEMG. "Some of the product lines are absolutely museum-quality. We also maintain very high standards regarding ecological and labor practices. It is all a manifestation of our company philosophy of kyosei - all people living and working together for the common good."
Concerns about environmental and labor practices are central in the mind of today's upscale customer who buys such imported items. Texere Silk works closely with its affiliates in this regard. This cooperative verification process, combined with requisite certifications - such as the ISO 14000 family of environmental standards and the SA 8000 family of labor standards, ensures the regularity of high labor and environmental practices.
NEMG, the parent company of Texere Silk, is committed to the principles of kyosei. To that end, the company has established the Kysoei Fund for providing practical social support to communities in the United States and Canada, as well as other countries where it has operations. NEMG will deposit a portion of its revenues into the fund for disbursement to social organizations or projects that meet the defined qualifications.
Saeed, who has an MBA from University of Michigan, highlighted the impetus behind his company's approach: "The current paradigm of globalization has too many dimensions that are clearly harmful to human society. Human and ecological mistreatment, unfair trade practices, and product standardization driven by commercial imperatives of consumerism are but a few examples. Texere Silk intends to be a positive driver of globalization, promoting economic activity that does justice to our long-term societal interests."
The exquisite product line is available for retail purchase at TexereSilk.com.
About Texere Silk and NEMG
TexereSilk.com is a business unit within New England Mercantile Group LLC, which is a Connecticut-based strategic product sourcing company. A global sourcing company with offices in Asia, NEMG sourcing function extends to a wide range of industrial sectors, from design and architecture to sporting goods and textiles.
# # #