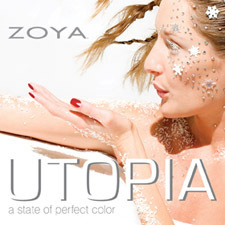 Unique and intense, yet incredibly wearable, the Utopia collection is absolute nail polish perfection.
Cleveland, OH (PRWEB) September 12, 2007
Welcome to Utopia - a state of perfect Zoya nail color. Looking for a color paradise? Zoya delivers with 6 ideal Winter 07/08 shades. "Unique and intense, yet incredibly wearable, the Utopia collection is absolute nail polish perfection." Try them all: Irene/ZP426 (truly unique metallic sage), Akyra/ZP427 (bold metallic azure), Juno/ZP428 (deep metallic amethyst), Tama/ZP429 (bright metallic orchid pink), Kamilah/ZP430 (rich gilded metallic scarlet) and Austine/ZP431 (soft metallic gold).
Utopia features Zoya's best-selling, professional natural nail lacquer formula. As always, Zoya healthy nail colors are free of harmful industrial chemicals like toluene, formaldehyde, dibutyl phthalate (DBP) that are known to cause cancer and birth defects. Why risk it by using a toxic formula - be safe, use Zoya.
Zoya polish comes in a 0.5 oz. bottle and retails for $6.00 per bottle.
Make color last with the 4 step Zoya Color-Lock system. The system includes the following:
Remove: Incredible polish remover, nail cleaner and color prep product. "Big Flipper" bottle makes one handed use a breeze. Zoya Remove in the 8 oz. Big Flipper pump bottle retails for $9.99.
Anchor - basecoat: Forms a bond between nail bed and the nail lacquer, provides a surface for lacquer to cling to, prevents bubbling and peeling, complex protein chains strengthen nails, extends polish wear for days. 0.5 oz. Zoya Anchor bottles retail at $8.00.
Armor - topcoat/uv block: Ultra flexible formula bends with nails, minimizes chipping and provides UV protection. 0.5 oz bottle. 0.5 oz. Zoya Armor bottles retail at $8.00 ea.
Hurry Up - speed dry drops: Speeds drying time, prevents bubbles, enhances color vibrancy with camellia oil, provides UV protection/prevents yellowing, conditions cuticles, extends polish wear. 0.5 oz. Zoya Hurry Up with dropper retails at $16.00 ea.
Find Zoya's Utopia collection along with over 200 other ultra high-fashion Zoya shades and the exclusive Zoya Color-Lock system (for guaranteed long-lasting color) at fine salons and spas across the country, or online at http://www.zoya.com. Call 1.800.659.6909 to order by phone or to reach customer service. Not available in drugstores.
Press samples available upon request.
###