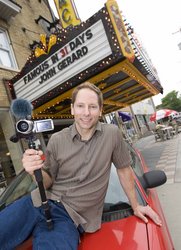 Working class people love this story
(PRWEB) September 6, 2007
Is it possible for an average New Yorker to become famous in 31 days and possibly land an appearance on The Tonight Show with Jay Leno? John Gerard is betting the house on it with a compelling new social experiment. Three weeks ago, Gerard quit his job and collapsed his first home purchase deal to use the down payment to see if it's possible for a person to become famous in 31 days.
The 'social experiment' began August 23rd, when the 43-year old set out on a month-long, cross-country, tour. Wearing branded t-shirts, behind the wheel of his banner-laden car, he drives from city to city, meeting as many people as possible and spreading the word. "Working class people love this story," Gerard says enthusiastically. "Everyone I meet tells me they wish they could just quit their job and do something crazy like this. And the best part is, by following my journey on line at FamousIn31Days.com, they get to experience it without ever leaving the safety and comfort of their own living room."
Some of Gerard's early trip highlights include using a bullhorn to draw the attention of Donald Trump outside of his Manhattan skyscraper, getting NBC's Matt Lauer to display Gerard's colorful business card on the sidewalk of the Today Show, and appearing as a guest on morning chat shows in Chicago, Philadelphia, and Cleveland. Although the adventure is intended to be fun, Gerard says the project does have a broader social component. "I really hope to explore our cultural fascination with fame and understand why it exists. I think it's because deep down all people crave recognition. And fame is the ultimate experience of feeling recognized."
John Gerard says this social experiment is also a nerve-wracking exercise in facing and transcending fear. "I get scared every day, he says openly. But I know if I'm going to succeed at anything in life, I need to put one foot in front of the other, even if they're trembling, and keep moving forward." A task sometimes made easier by the support he has received from around the globe. "I've gotten encouraging emails from people on four continents," he says. "It seems that the story of a person risking everything to chase their dreams transcends language and borders."
The adventure is scheduled to conclude the third week of September, in Burbank, California, with what Gerard hopes will be an invitation to appear as a guest on The Tonight Show with Jay Leno. "I chose The Tonight Show with Jay Leno because it has long been used as a cultural barometer to measure fame, and rightly so." Gerard is planning to record the entire 31-day voyage and compile the material into a compelling documentary on the seductive yet elusive power of fame. For more information on this unique social experiment, please visit the Famous in 31 Days Web site or call John Gerard at (315) 657-6625.
###