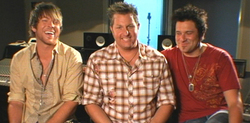 We were on this real tall stage and [the audience is] shooting cameras from way down low
Nashville, TN (PRWEB) September 8, 2007
What freaks out Rascal Flatts bassist/vocalist Jay DeMarcus more than anything else?
"Man-eating snakes. When it comes to snakes...I'm running through the yard like a girl, period," DeMarcus tells GACTV.com as part of the Web site's exclusive online video question-and-answer session with members of the top country music group. Rascal Flatts is GAC's Artist of the Month for September.
Rascal Flatts members DeMarcus, Gary LeVox and Joe Don Rooney answer questions submitted to GAC by fans. Questions run the gamut from how the guys spend their time when they're not touring, how they got their "big" break, and what was their most embarrassing moment on stage.
LeVox grins widely as he remembers an incident one might say was "ripped" from the headlines.
"We were on this real tall stage and [the audience is] shooting cameras from way down low," he recalls. "On about the second song of an hour-long set, I was jumping up and the entire crotch of my pants ripped out, and I'm thinking 'so what am I going to do for another 55 minutes?'"
Want to hear the rest of the story? Log on to GACTV.com to this and additional candid answers to dozens of other questions in GACTV.com's special Artist of the Month feature with Rascal Flatts.
The GACTV.com Artist of the Month package also includes a photo gallery, trivia contest and a sweepstakes in which one lucky winner will receive a guitar and a plaque autographed by DeMarcus, Rooney and LeVox.
About Great American Country (GAC)
Great American Country is America's main street for the widest variety of country music, its artists and the lifestyles they influence. In addition to country music videos, GAC features original programming, special musical performances and live concerts, and is the exclusive television home of the Grand Ole Opry. GAC is available in more than 50 million households and online at http://www.GACTV.com.
###