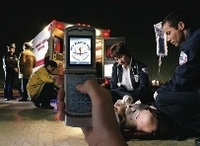 With over 25,000 people attending the two day event and our first product release we are extremely pleased with the interest and response
Marina Del Rey, CA (PRWEB) September 7, 2007
MyRapidMD™ Corp - http://www.myrapidmd.com, a developer of meaningful personal mobile content recognized at Disney's Health and Fitness Expo.
Privately held MyRapidMD's Emergency Service Profile (ESP) mobile software application was singled out by Expo announcer Mr. Rudy Novotony as the most innovative product and service at the show. In the only Expo floor interview Mr. Novotony referred to MyRapidMD's ESP as a way for cell phone owners to help themselves in their time of need.
"This is one of the most innovative products we have seen in the short life of Disney's Health and Fitness Expo and we are grateful they chose our event to launch such a wonderful service" commented Mr. Novotony.
"With over 25,000 people attending the two day event and our first product release we are extremely pleased with the interest and response" said Mr. Mark White founder and President.
From the perspective of first responders, Mr. Bill Keddy, Chairman of the MyRapidMD Emergency Services Advisory board - Advisory Board Members - went on to say; "The turn out and interest expressed by the Emergency Services and the health care community in ESP for cell phones was extremely positive, and all comments focused on the practical nature of ESP as an efficient and effective tool to assist first responders in the field."
The ongoing benefit of something as simple as ESP on your cell phone does not stop with the proper emergency medical and contact information. ESP allows time and money to be saved as a result of a more accurate and informed diagnosis of the patient and assessment of the emergency scene. The wrong medications and diagnosis can result in extra time and tests in the hospital, all things that can be avoided with the right information at the right time.
"The amount of times people come into the ER without any knowledge of who they are or their medical or personal contact information is quite simply shocking and unnecessary. And even if they are accompanied by someone, a lot of the time that someone does not know the medical and or contact details of the person they are with" said Mr. Travis Gilmore ER nurse and MyRapidMD advisory board member.
MyRapidMD will be attending the American Diabetes Association Expo in New York City on September 29, 2007 followed by the EMS national convention in Orlando Florida the week of October 11-13, 2007.
"Does your phone have ESP?"™
MyRapidMD's ESP is a proprietary software application designed specifically for cell phones and smart phones. The ESP application provides a concise Emergency Service Profile based on an internationally recognized victim assessment procedure used by first responders. MyRapidMD has formatted this procedure into a mobile software application that also attaches a photo of the cell phone owner to confirm the identity in emergency/accident situations. ESP can easily be retrieved and displayed by first responders on the victim's cell phone at the emergency scene or accident. Developed in concert with Firemen, Paramedics, Emergency Room Nurses and other first responders, MyRapidMD's ESP mobile software application assists first responders at the emergency/accident scene in the assessment and treatment of victims. MyRapidMD's ESP turns the cell phone into an efficient and effective emergency information tool for receiving ER personnel while the patient/victim is in transit to the ER.
###