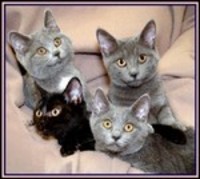 living a dog's life
Washington, DC (PRWEB) September 7, 2007
There is probably no better gauge to illustrate the huge change in the way we treat our pets now as opposed to how we viewed and treated our pets almost half a century ago then looking at Center Pet Pharmacy. Center Pet Pharmacy is a family owned business that just celebrated its 43rd anniversary. For almost half a century Center Pet Pharmacy has been servicing medications to veterinarians and helping pet owners alike take the best care of their favorite companions.
It was 1964, Lyndon Johnson was president, the Beatles were the craze, the Mustang was introduced and social change and civil rights were on the horizon. Much has changed over the years and Center Pet Pharmacy has changed with the times. When Center Pet Pharmacy got started people were "owners" of their pets and "living a dog's life" or "sleeping in the doghouse" was not meant as a compliment. Reality was not being carried around in Paris Hilton's purse, dressed in Gucci or being left a 12 million dollar estate by Leona Helmsley. Reality was being left out in the wet muddy yard for the day and sleeping in the outdoor doghouse at night. This was commonplace as to the way pets lived almost 50 years ago. Once obtained as sidekicks for kids, companion animals are more popular now with older couples whose children have left home, single professionals, and couples who are having children later in life. What connects these different demographic groups is a penchant to having extra time and resources to spend. Today Center Pet Pharmacy compounds the latest in compliance solutions and still delivers medications to veterinarians and their clients (the best of both worlds), exemplifying that service is a real commodity in the lifestyles of today's pet owners. Recent studies have shown that many people today perceive their pets to have human problems and feelings such as depression and anxiety. A study done by the HNK Consultation group showed that pet owners get everything from designer clothes to psychoanalysis for their pet's happiness and wellbeing. Customized medications fall right in line with this.
Center Pet Pharmacy has mastered techniques such as changing solid forms of medication into liquid compounded preparations in your pet's choice of 16 different pet friendly flavors from Crispy Bacon to Salmon Steak, making it easy and painless to administer medicine to your beloved pet. Most pets will even lick the flavored medication right off of a paper plate and enjoy it. Center Pet Pharmacy now offers transdermal medication, medicated chew tablets, capsules in strengths that are not commercially available, sterile ophthalmics and holistic and homeopathic drugs. Center Pet Pharmacy is here to accommodate the pet, the pet owner and the veterinarian.
Many people are willing to forego these amenities because they have been led to believe that it is cheapest to get their pet's medications from on-line pharmacies that have never even seen their pet, but when shipping and handling are factored in it doesn't come out any cheaper. Center Pet Pharmacy can meet or exceed any low price that other pharmacies offer. Many times the shipping alone can take 4 or 5 days while your pet's medication stays in a very hot or very cold storage facility. Temperature and storage conditions can affect the efficacy of a medication when the client receives it.
Our pharmacists and staff are 100% dedicated to meeting the needs of our clients and offer assistance to all pets with a 24 hour hotline. In case of an adverse reaction or an allergy, there is someone to talk too immediately and instruct you what to do. This kind of service is rare find today even amongst the human population.
All meds provided are inspected by the FDA and are manufactured and packaged according to US Government Regulations. Therefore, all of our products meet optimal safety standards.
Good old fashioned service is part of what Center Pet Pharmacy provides. Deliveries are made directly to the pet owner or veterinarian - whichever is preferred and there is always a quick turnaround time of one to two days. There is even in store pickup if desired.
Studies show that only 10% of cat owners and 30% of dog owners succeed in medicating their pets correctly. At Center Pet Pharmacy it has been our mission to make it easier for the pet owners to medicate their pets which boosts compliance to over 90% equaling happier pets, less trauma and a quicker recovery.
We assist the veterinarian to help them provide optimal service to their clients by working as an adjunct to services that they already offer giving them a wider variety of ways to help their pets.
If you are a veterinarian or a pet owner and would like to find out how Center Pet Pharmacy can help you please call for more information. Contact Chris Martin at 202-464-1911 or 1-866-961-5666 or cmartin @ centerpetpharmacy.com
###