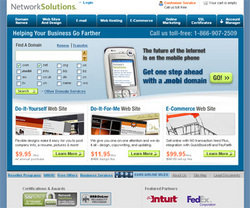 Clicks to Customers: Get Them with Search, Keep Them With E-mail
Herndon, VA (PRWEB) September 7, 2007
Business owners are realizing the growing demand and importance of gaining online presence. With more companies going online, small business owners must now focus on enhancing their web presence and building relationships with potential customers. To increase website traffic, entrepreneurs must invest in an online marketing strategy that will grab prospective customers' attention and then maintain their loyalty. To help provide insight and advice, Network Solutions®, a leading provider of search engine optimization and online marketing services, and Constant Contact®, Inc., a leading provider of email marketing tools and online surveys for small organizations, will hold a joint live seminar, "Clicks to Customers: Get Them with Search, Keep Them With E-mail," on September 12, 2007 in Denver, Colorado.
This joint program will highlight the benefits of combining SEO and email marketing campaigns and strategies to produce increased website traffic and generate repeat business. This seminar will cover the basics of search engine optimization (SEO), as well as how to use the collective power of search engine optimization, email marketing, and web hosting services to attract, cultivate and nurture website visitors. Some of the topics presented will include how to grow your business using keyword research, search technology and proven email marketing strategies and best practices.
Harry Lalor, Vice President of Partner Marketing with Network Solutions, explains the collaboration between Network Solutions and Constant Contact, "There is a natural synergy between generating new customers via SEO and creating a relationship with them via email marketing. We look forward to continuing to work with Constant Contact and expand upon that synergy."
"Once qualified visitors are attracted to their websites, small businesses have a great opportunity to build lasting relationships with them through the power of email marketing," said Eric Groves, SVP Sales and Business Development, Constant Contact. "This unique seminar demonstrates how small businesses can attract website visitors and turn them into repeat customers and grow their business.
To register for this seminar, go to [constantcontact.com.
About Network Solutions:
A leading provider of web solutions, Network Solutions, offers a comprehensive line of products for businesses, including affordable website design services, web marketing, search engine optimization, hosting, domain registration and other Internet solutions. As an industry pioneer and over 28 years in the web services industry, Network Solutions is committed to helping businesses succeed with affordable and simple one-stop shopping solutions.
About Constant Contact, Inc.:
Constant Contact, Inc. is a leading provider of email marketing and online survey tools for small organizations, including small businesses, associations and nonprofits. Launched in 1998, Constant Contact has more than 130,000 customers worldwide today. To learn more, please visit http://www.constantcontact.com or call (781) 472-8100.
# # #