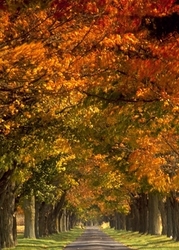 Richmond, Va. (PRWEB) September 10, 2007
Virginia is a brilliant fall destination, with more than 15 million acres of foliage bursting into color, 120 wineries celebrating the harvest and 2,500 miles of breath-taking scenic drives. For families and friends looking to make the most of fall, here is a taste of what makes autumn the perfect time to visit Virginia:
De-Vine Color Tours
Virginia was recently named one of the top up-and-coming wine destinations in the world and fall is the perfect time to come see why everyone's talking about Virginia wine. Brilliant fall colors highlight the natural beauty surrounding Virginia's 120 wineries. The state's numerous wine trails make visiting wine country easy and will add a little burgundy, white or rosé to fall color tours. Virginia wine trails combine unique wine tasting rooms together with vibrant fall foliage, scenic roadways, and quaint towns with locally-owned restaurants and shops for a very special fall experience. http://www.FallinVirginia.org/winetrails
Wine Month Celebrations
Wine is so big in Virginia that the state dedicates October as Virginia Wine Month, with festivals, events and celebrations. Wine festivals abound, from the Town Point Wine Festival along the Elizabeth River in Norfolk to the Festival of The Grape in historic Powhatan to the unforgettable Wine and Garlic Festival at Rebec Vineyards in the Blue Ridge Mountains. Special events like the Haunted Winery Dinner at DelFosse Vineyards and Winery, All Things Olive at Villa Appalachia Winery and Autumn Explosion and Barrel Tasting at Barboursville Vineyards help make Virginia Wine Month a great time to visit. http://www.FallinVirginia.org/wine
Leaf Peeper Delight
For those seeking the best of fall colors, Virginia is sure to delight, with more than 15 million acres of foliage. Experience the vivid reds, yellows and oranges in Virginia's mountain regions around early October. In the central piedmont region of Virginia, fall colors usually start to turn by mid-October. The Blue Ridge Mountains bordering Central Virginia turn a bit earlier as well as in Northern Virginia. By mid-November, Virginia's coastal region has turned color with the bronze and orange of sea oaks to the golden and rust of cane grasses. Starting in October, weekly foliage reports will be posted to http://www.FallinVirginia.org to help visitors plan their trip in advance.
Scenic Drives
Virginia has more than 2,500 miles of designated scenic byways, with legendary drives such as the Blue Ridge Parkway and Skyline Drive, and all offer incredible views of fall foliage. Plan a fall drive along Virginia's Crooked Road and mix bluegrass and country music with fall's spectacular colors. Or follow the path of Virginia's Civil War trails and visit famous battlefields and sites throughout the state. Whichever path visitors choose, Virginia's scenic drives will wind past historical sites, scenic overlooks, wineries and small towns and cities, making for a unique fall trip. http://www.FallinVirginia.org/scenicdrives
Family Fall Fun
Virginia's farms and orchards come to life in the fall with good old-fashioned fun for the whole family. At Maize Quest in the Shenandoah Valley, use Maize-o-Vision secret decoders to help navigate through the corn. Visit Pumpkinville in Leesburg to celebrate the season with a hay maze, giant hill slides, straw tunnels, rope swings, and more. Kids and their parents can pick pumpkins, squeeze cider, make apple butter, and watch farm critters at Fall Farm Fest at Sky Meadows State Park. At Chesterfield Berry Farm's 2007 Pumpkin Festival, families can savor some pumpkin ice cream after successfully navigating the 400th Anniversary of Jamestown corn maize. http://www.FallinVirginia.org/familyfun
For more information about ways to celebrate fall in Virginia and for the latest updates on fall foliage, go to http://www.FallinVirginia.org or call 1-800-932-5827 to request a Virginia Travel Guide.
###