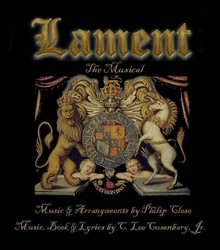 The songs are more like what you would hear on Broadway, but ranked above other rock and pop music on the site, which was a surprise to us.
New York, NY (PRWEB) September 10, 2007
New York Composer, Philip Close and San Antonio lyricist and writer, C. Lee Cusenbary, released a double CD on Amazon.com and CDBaby.com to rave five star reviews, but have never met or spoken by phone. The epic musical drama, based on the true story of the conspiracy to overthrow England's King Charles I in 1648, was inspired by one single song, written by Close in New York, while he was playing in a jazz band and scoring independent films. "Like many composers, I post my new tracks on the internet on Sony's Acidplanet.com website to get critiqued by other songwriters," stated Close. Both Cusenbary and Close were both elected members of the Acid Exchange, an international song writing guild of about forty published songwriters. "I was surprised to get an email from a member of the Exchange who lives in San Antonio, Texas, asking me for permission to write lyrics to one of my classical compositions, Lament."
Cusenbary heard Lament online and was so impressed with the powerful orchestrated music, that he wrote lyrics to the track and recorded them. The new track was reposted to the songwriters' website for reviews. The track with lyrics became the number one rated track on the Sony website based on reviews and rankings, in all genres of music. "It was the sort of encouragement that makes you want to write more songs, and we did," comments Cusenbary, an attorney in San Antonio, who is the General Counsel of Mission Pharmacal Company. Three more number one ranked songs followed, along with thousands of encouraging reviews from all over the world. "It was like having this world wide audience, pushing us to keep working nights and weekends on this project. It was a bit overwhelming with a day job, a wife, and three kids to raise," said Cusenbary. "The songs are more like what you would hear on Broadway, but ranked above other rock and pop music on the site, which was a surprise to us." As the lyricist for the project, Cusenbary also wrote the story that pulls the songs together. He has written both a screenplay and a stage play for the story, and is currently writing Lament—The Novel.
Three years later, the two musicians have completed 41 tracks and produced a double CD that has sold in the top 10 ranking Broadway and Vocal category on Amazon.com. Reviews like "stunning," "brilliant," and "work of art" are all over the reviews page of Amazon.com. The moving story and dramatic music have been compared repeatedly to Les Miserables and Phantom of the Opera, both of which sold over two billion dollars in theatre tickets and merchandising. Hoping to find a similar interest in their musical, Cusenbary and Close are currently working to secure a literary agent to take Lament—The Musical to producers of film and stage productions.
What is most remarkable is that over the three years of work on musical, the two musicians have never met or spoken by phone. Over 2500 emails over three years, and 41 tracks of music and lyrics were repeatedly exchanged, edited, recorded, and produced using only the internet. "It worked, so why fix it?" comments Cusenbary, who describes Close as a good friend despite the distance between them. They have decided to wait to meet until they have a production deal to sign.
The Story of Lament—The Musical
Lament—The Musical is inspired by the remarkable true story men in England's Parliament in 1648 who secretly conspired against King Charles I to end his reign. They manipulated both Parliament and the people of London to free England and her people from poverty and religious oppression believed to be caused by King Charles I. The King's daughter, Elizabeth Stuart, is caught in the middle of the political struggle between the King and Parliament when her father arranges her marriage to a political ally, the Prince of Portugal. Elizabeth seeks advice from the ghost of King James I, her grandfather, and from her namesake, the ghost of Queen Elizabeth I. She turns to a forbidden love with childhood friend Will Dobson, the youngest Member of Parliament, who is forced by the conspirators to play a role in the King's fate. Together, Elizabeth and Will try in vain to save King Charles from himself when he is tried for treason against England. King Charles' arrogance leads to his downfall and he is publicly beheaded. Without a monarch, England is free from tyranny and begins again with new hope. Elizabeth is no longer bound by the marriage treaty, and she and Will are free to marry.
To hear the musical tracks and for production opportunities for Lament—The Musical, go to http://www.lamentthemusical.com.
To read reviews online, click here.
Contact Information:
Emails to info @ lamentthemusical.com will be responded to immediately.
###