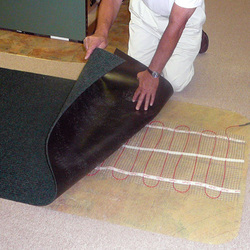 After installing it here, our staff no longer complained of cold floors, and we were able to turn down our thermostat and still stay warm
Cleveland, OH (PRWEB) September 10, 2007
Martinson-Nicholls new Speed Heat and Electric Danfoss Heated Floor Systems are designed to go under carpet or floor matting to warm floors and dry tracked-in moisture. Using only 12 watts per square foot, the heated floor systems produce an economical, warmer environment.
The new Speed Heat and Danfoss Floor Heating Systems are designed to put heat where needed under carpets, area rugs, floor matting and other flooring materials. Eliminating the need for space heaters, these systems provide efficient radiant heat while also drying moisture tracked in at door entrances.
"After installing it here, our staff no longer complained of cold floors, and we were able to turn down our thermostat and still stay warm," according to company president Dan Ruminski.
Ideal for cold concrete slab buildings where conventional heating systems do nothing to warm the cold floor, the Martinson-Nicholls floor heating system can be covered with Waterhog matting that is both attractive and durable. Using the new heated floor system and Waterhog, 25 degree Fahrenheit temperature increases on the mat surface have been achieved. Available in ten colors with various patterns, the Waterhog matting is an ideal match to the heated system, matching any decor.
For new commercial and residential construction, the heated floor system can be built-in without having a cord exposed. The system can also be installed in existing carpet and floor systems, except under glue-down carpets. The radiant heating can also be adapted to heat bathroom, tile, and even hardwood floor areas.
The system eliminates the need for costly and potentially dangerous space heaters. As heat rises, having heated floors yields effective warmth for large areas, particularly in winter months. An added benefit is the heated system dries floor mats, rugs and carpets. When floors are cold, people feel chilled even when the air temperatures are comfortable. Since normal heating systems do little or nothing to warm floors, these radiant heat floor packages provide effective warmth while lowering energy costs.
The Martinson-Nicholls Speed Heat System is available for both under carpet and area rug installations. For long areas, the Danfoss heating system is preferred.
About Martinson-Nicholls
Martinson-Nicholls, over the last 25 years, has established itself as a leader in custom floor matting, heated floor mats, and safety solutions.
Martinson-Nicholls provides the customer with the exact size matting needed--small, large, standard, nonstandard, special shapes and logos. Custom installations are also a specialty of the company.
Anti-slip safety tapes and treads are available in various sizes and textures from hand cut or die cut pieces to full rolls and special shapes. For more information, please visit http://www.floormat.com.
###