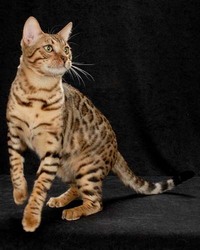 San Francisco (PRWEB) September 10, 2007
Baffled by Bengals? If so, Marilyn Krieger, a Certified Cat Behavior Consultant and one of the nation's foremost experts on the Bengal Cat breed, shares the latest research and opinions held by leading behavior experts and geneticists in the September issue of Catnip, the prestigious monthly newsletter produced in cooperation with The Cummings School of Veterinary Medicine at Tufts University.
Due to its unique origin by crossing the Asian Leopard Cat (ALC), a small, unaggressive wild cat indigenous to Asia and parts of Russia, with the domestic cat, the Bengal breed has been engulfed in controversy concerning its behavior since its beginning. Myths still perpetuate, even though the majority of Bengals who are adopted or sold as companion animals are at least four generations removed from the Asian Leopard Cat. Krieger separates the fact from fiction when reviewing the breed's temperament, high activity level, colorful vocalizations and athletic abilities.
Krieger shares results of a study conducted by California Bengal Cat Rescue, which polled four organizations about cats that were brought into rescue for behavior problems throughout 2006. Great Lakes Bengal Rescue, Maine Coon Adoptions (California Chapter), a Pennsylvania Manx rescue group and Southern California Abyssinian Rescue participated. Findings showed that the other three breed groups had more cats surrendered to them with behavior issues, and more cats that could not be rehabilitated, than the Bengal rescue group, confirming that Bengals do not have more behavior problems than other breeds.
According to The International Cat Association (TICA), Bengals now rank in their registry as the most popular breed with more than 60,000 registered, followed by Ragdolls, Maine Coons and Persians. These rankings, coupled with the polling data, illustrate how incidents of behavior problems are proportionately fewer for Bengals than other breeds.
For more information, visit http://www.thecatcoach.com or telephone 650.780.9485.
About The Cat Coach, LLC (sm)
Marilyn Krieger, CCBC, has been counseling national and international clients on cat behavior issues since 1990. Offering both on-site and phone consultations for all breeds of cats, as well as behavior classes and seminars, her expertise has received national media attention. Marilyn is one of the cat behaviorists on the CatChannel.com, the Cat Fancy web site, and authors "Ask The Cat Coach(sm) for Animal Radio Network's monthly magazine.
Contact: Marilyn Krieger
The Cat Coach, LLC (sm)
650.780.9485 or marilyn @ thecatcoach.com.
# # #