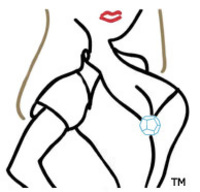 This is one of the best inventions I have ever seen and I recommend it to everyone I know
New York City, NY (PRWEB) September 10, 2007
Bosom Buttons Rescue Women from Fashion Emergencies. Declare wardrobe malfunctions no more with Bosom Buttons, don't become a fashion victim.
Bosom Button fashion pins crafted from Swarovski crystals, pearls and gemstones are now available online and at select boutiques to help women buck the trend of wardrobe malfunctions. The small gems can be fastened to necklines to rectify a low cut top, replace a missing button or secure a shawl.
In this era of constant wardrobe malfunctions of the flesh-baring kind, modesty is becoming sexy. There are numerous ways a Bosom Button can prevent fashion emergencies. Make those plunging necklines more work appropriate and get twice the use out of them with a fab dazzling gem. When that jacket or blouse pops a button in public you will no longer have to hold it together or run to your car embarrassed. A Bosom Button will make such a pretty replacement you might want to replace all of the buttons. The annoyance and inconvenience of a slipping bra strap can be stopped in its tracks with a subtle button attached through the strap and your shirt. Shawls and saris can be kept in place so that your mind is on being fabulous not on flashing.
The idea for these baubles came to the creator one day as she was trying to hide the safety pin that was securing her wrap dress. She designed the 8 mm in diameter buttons to be subtle but stylish alternatives to those pesky pins. Originally distributing the Buttons to her family and friends, the popularity of the product inspired her to sell them to the masses. Available in ten colors, the Bosom Buttons are made from quality materials such as Swarovski crystals, pearls and gemstones. Pierce your fabric with the pin, fasten into the back and strut your stuff without fear of overexposure.
Testimonials for the product are pouring in to its website BosomButton.com. "I put my camisole away for the summer!" says Lauren of Charlotte, North Carolina. "This is one of the best inventions I have ever seen and I recommend it to everyone I know," says Marie of Atlanta, Georgia. There is no doubt that everyone's wardrobe potential will soar with these affordable essential baubles.
A True Tale of Wardrobe Malfunction:
"I was going out to a club with my female friends on a Saturday night and I wanted to look hot. I wore a really, scandalously low cut top with some black pants and heels. As I'm hitting the dance floor, I get a text message from a client who needs to meet with me IMMEDIATELY at a nearby job site. I obviously couldn't go dressed as I was but I didn't have time to go home and change. Luckily, my friend had a Bosom Button in her purse. I clipped it on my shirt and was suddenly appropriate for a work setting. I met with the client without having to explain (or apologize for) my heaving bosom. That Bosom Button was a lifesaver!" -Brandy, an entrepreneur from Orlando, Florida
About:
Bosom Button Jewelry Styles Available are: silver, crystal, topaz, rose, fuchsia, amethyst, peridot and aqua Swarovski crystals or white pearl.
As Seen In: She Unlimited, Daily Confection, SheSheMe, Diva Village, Style Bakery, Shecky's- Girl's Night Out, A Girl Must Shop, and many more.
# # #