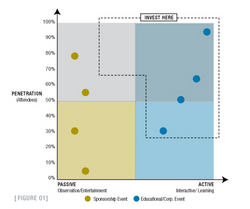 Should CE Companies Leave CES and Go It Alone?
New York, NY (PRWEB) September 11, 2007
It's planning season for the year's biggest consumer electronics shows and companies have major decisions to make whether or not to showcase their latest innovations at CES Las Vegas, CeBIT Hannover, and IFA Berlin, among others. Both consumer electronics giants and boutiques invariably question the value of their investment and attempt to gauge ROI from past attendance. In recent history, Apple Inc. has established itself as one of the industry's hottest trendsetters--one that has forsaken the big shows and gone it alone.
Which begs the question: Is it time to ditch CES Las Vegas, CeBIT Hannover, and IFA Berlin?
To answer the question, Brew|SDC, with its years of environmental and service design for top Madison Avenue agencies and Fortune 500 companies, announces the Brew Bulletin: "Should CE Companies Leave CES and Go It Alone?" The special report sheds light on the winning proposition behind consumer electronics tradeshow investment and participation.
"In the perpetual cycle of CE tradeshow investments, Brew is frequently asked to quantify the ROI of property and programmatic designs," said Lyle Sandler, Brew|SDC partner. "Apple is the standout example -- with its MacWorld event and occasional Steve Jobs exclusive web announcements. These events are successful not because Apple has cornered the market on consumer preference, but because Apple understands the role their company plays within a continuum of consumer behaviors and needs. And they've committed to thoroughly connecting to customers' lives - online, in-store, through products, platforms, and services, and through their very targeted events."
Excerpt from the Brew Bulletin:
"In fact, our hypothesis is that it is more valuable to connect with fewer people in a meaningful way then more people with little relevance. A well-designed and synchronized platform that targets a smaller well-positioned audience will yield a force of brand advocates and connectors within larger more diverse audiences. As illustrated in figure 1 the greatest return on investment is actualized in a synchronized platform that provides educational and immersive qualities. Value increases as the platform is disseminated to larger more diverse audiences."
For more on this topic, or to download the latest Brew Bulletin, "Should CE Companies Leave CES and Go It Alone?" go to http://www.brewsdc.com.
About Brew|SDC:
Headquartered in New York City, Brew|SDC provides visionary environmental and service design for innovative retailers and consumer brands. Brew offers clients profound insight-based strategic design - capitalizing upon mechanisms of people's everyday life to rouse minds, stimulate desired behaviors and influence purchase intent through highly relevant programs and spaces. Brew works with leading CE companies to help them strategize their environmental and programmatic property designs.
###