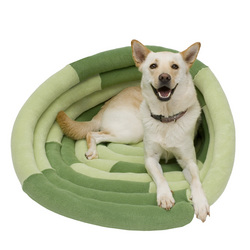 Houston, TX (PRWEB) September 12, 2007
Bella Creature Comforts, LLC® rolled out its eco-friendly line of pet bedding to a great market reception. Within weeks of rolling the new line out Bella Creature was awarded a Modern Dog 'Staff Picks' Award.
The new eco-friendly Bella Bed™ and Bella Binky™ are made from recycled cotton fiber. The fiber is recovered as pre-consumer apparel scrap from cutting rooms, so new plants need not be grown, harvested, processed and dyed. Using clean recycled cotton saves, energy, water, and decreases the amount of consumer waste slated for a landfill. The Bella Beds™ are also filled with recycled material made from PET. PET (polyethylene terephthalate) is made from oil, which comes from really old plants. PET is highly recyclable and can be transformed again and again for many different uses. The bottom line is that the products are now totally eco-friendly as a nod to making our pups green and keeping them healthy, happy and most of all, Comfortable!
The bedding is elegantly practical in its approach to providing attractive, eco-friendly bedding that is designed with pet's needs in mind, while appealing to their owner's eye for quality design and workmanship. Bella, the Chief Executive Dog for the line and spokes-dog for Better Bedding for Quadrupeds, claims it's the best bedding she's ever had. At least we think that's what she said!
About Bella Creature Comforts, LLC:
Bella Creature Comforts, LLC is a Texas Corporation solely engaged in the design and marketing of innovative pet products. Michele M. Hedges, the principal of Bella Creature Comforts, was a long time corporate lawyer before succumbing to her love of animals, and going straight to the dogs in establishing the company. For more information, visit http://www.bellacreaturecomforts.com, call 1-800-PET-ROMP.
Simply Perfect. Perfectly Simple.
###