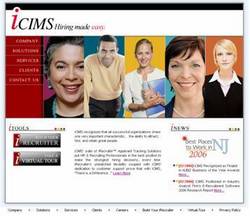 iCIMS has proven to be one of the fast-growth success stories in New Jersey, and we applaud their dedication to making their vision a reality.
Hazlet, NJ (PRWEB) September 11, 2007
Software-as-a-Service (SaaS) leader, iCIMS, announced several recent awards for the organization today. In recent months, iCIMS has earned high marks around the globe for its ongoing financial growth, commitment to environmental causes and overall business excellence. The influx of awards continues an exciting period of growth and development at iCIMS.
Most recently, iCIMS received a 10th place ranking on the Deloitte Technology Fast 50 list, which recognizes the fastest-growing private technology firms across New Jersey. This recognition illustrates iCIMS' tremendous organic growth of more than 1,085 percent over the past five years. "To rank on Deloitte's Technology Fast 50, companies must have phenomenal revenue growth over five years," said Paul Mlynarski, Partner Deloitte Tax LLP. "iCIMS has proven to be one of the fast-growth success stories in New Jersey, and we applaud their dedication to making their vision a reality."
Additional state-wide honors for iCIMS include the 2007 NJBIZ Business of the Year Awards. iCIMS has once again been recognized by NJBIZ for financial success and commitment to employee and community development. In 2006, iCIMS was also a finalist for this prestigious New Jersey business award.
On a global scale, iCIMS was honored on Software magazine's Software 500 Survey of the World's Largest Software and Service Providers. iCIMS has steadily climbed the list since its initial placement in 2003. Over this time period, iCIMS has grown its client base to nearly 500 clients, which now includes Continental Airlines, The Hershey Company, and Liz Claiborne.
iCIMS' Software 500 recognition comes on the heels of its ranking on the Inc. 5,000 List, which profiles North America's fastest-growing private companies. iCIMS ranked 1,000th overall with more than 353 percent growth since 2003.
President and CEO Colin Day expressed his enthusiasm over the company's performance and its awards. "We are extremely proud of our continued success as well as the awards we have won," Day said. "Despite ongoing changes within the space, including significant consolidation, iCIMS has remained consistent through steady, organic growth. Our commitment to company objectives and the hard work of the entire iCIMS team has allowed us to stand out among competitors."
iCIMS' growth has brought nearly 500 clients onto the company's flagship product, the iRecruiter Talent Platform. The system provides a comprehensive solution for the entire employee lifecycle and is accompanied by unlimited, industry-renowned customer support. iCIMS' client growth has been balanced by superior customer satisfaction and retention ratings, which consistently exceed industry benchmarks.
About iCIMS
iCIMS, a leading Software-as-a-Service (SaaS) provider, is an Inc. 500 honoree focused on solving corporate business issues through the implementation of easy-to-use web-based software solutions. iCIMS' iRecruiter, the industry's premier Talent Platform, enables organizations to manage their entire talent lifecycle through a single web-based application. With nearly 500 clients worldwide, iCIMS is one of the largest and fastest-growing solution providers in the space. To learn more about how iRecruiter can help your organization, visit http://www.icims.com.
Trademarks and registered trademarks contained herein remain the property of their respective owners.
This press release was distributed through eMediawire by Human Resources Marketer (HR Marketer: http://www.HRmarketer.com) on behalf of the company listed above.
###