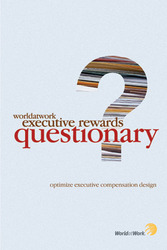 I truly believe that compensation committees want to do it right
Scottsdale, AZ (PRWEB) September 11, 2007
As CEO pay continues unabated as the most scrutinized area of executive compensation, WorldatWork has created a new tool that poses 225 questions boards of directors will need to address before they approve compensation plans. The WorldatWork Executive Rewards Questionary clearly identifies every essential factor for rewarding executives and directors.
Originally designed for its members, WorldatWork has recently made the tool available to the business community at large – CEOs, boards, compensation committees, HR practitioners and consultants. Currently available free of charge, the tool may be accessed on http://www.worldatwork.org/execcomptool.
The Questionary will help pay panels gearing up for the 2008 proxy season to deliberate decisions and criteria in specific areas of executive compensation design, such as internal and external environments, stakeholders, disclosure and transparency. "I truly believe that compensation committees want to do it right," said Don Lindner, executive compensation practice leader for WorldatWork. "Unfortunately, they don't know what they don't know. Knowing what questions to ask, especially the difficult ones, ensures a well thought-out compensation design process with fewer surprises."
The WorldatWork Executive Rewards Questionary is essential for planning or modifying a company's:
-Stock plans
-Equity-based plans
-Short- and long-term incentive plans
-Executive perquisites
-Executive benefits
-Deferred compensation plans
-Employment agreements
-Severance, change-of-control agreements
Sample questions from the WorldatWork Executive Rewards Questionary:

To what degree does the compensation philosophy align with corporate strategy, corporate culture, organizational resources?
Do you have a performance focus or entitlement orientation in your compensation programs?
Has your Accounting division reviewed this program design from an accounting treatment perspective?
Does this program require approval by external regulatory bodies?
How reliable and accurate is compensation market data for programs of this type?
Are there special interest groups that will react to this plan design?
To access the online tool, visit http://www.worldatwork.org/execcomptool.
About WorldatWork®
WorldatWork (http://www.worldatwork.org) is an international association of human resource professionals and business leaders focused on attracting, motivating and retaining employees. WorldatWork supports its 30,000 members and customers in 75 countries with thought leadership, education, publications, research and certification.
Press Contact:
Marcia Rhodes, APR
Media Relations
WorldatWork
Phone: 480/348-7285
http://www.worldatwork.org
This press release was distributed through eMediawire by Human Resources Marketer (HR Marketer: http://www.HRmarketer.com) on behalf of the company listed above.
###