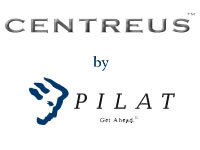 Lebanon, NJ (PRWEB) September 11, 2007
Pilat HR Solutions, global leader in talent management and performance improvement solutions, today introduced the new CENTREUS™ product family of Managed Services, Centreus 360™ and Centreus Develop™. These enable individuals to focus on effective development activity and to manage their delivery to ensure personal growth.
CENTREUS is delivered via a web-based Software-as-a-Service (SaaS) solution; users merely need internet access. It was developed to address the needs of small, medium, and large organizations seeking solutions that offer rapid implementation and flexible, pay-as-you-go pricing options. Available as a standard or configurable application, Centreus 360 and Centreus Develop are integrated to provide maximum individual development impact.
Centreus 360™
Centreus 360 is a fully managed 360 degree feedback service that goes beyond the conventional 'Self' and 'Manager' appraisals to include data from peers, reports, and other sources. Centreus 360 captures critical data on individuals including behavior ranking, strengths and limitations, gaps in perception, competency summary ratings, narrative feedback, and detailed ratings. From this can be derived fundamental change and improvement plans for individuals in an organization.
Centreus Develop™
Centreus Develop is a development management service that takes development planning to the next level by helping users to convert limitations and individual career goals into effective and actionable development plans. Centreus Develop manages individuals' personal action goals, development activities, success criteria, strengths and limitations, and progress journals. It ensures that development activities are successfully implemented and monitored on a continual basis.
Pilat Managed Services
Centreus 360 and Centreus Develop are supported by Pilat's Managed Services Team, made up of data analysts, project managers, and client support professionals who have managed over 8 million assessments globally in the past 20 years. The service is admin free which will allow you and/or your employees to focus on what matters – targeted development to meet the challenges of the 21st century.
For additional information and/or demonstration of CENTREUS, please visit http://www.pilat-nai.com or call 800-338-9701.
About Pilat
Pilat (North America), Inc. d/b/a Pilat HR Solutions is a wholly-owned subsidiary of the Pilat Technologies International Limited, a leading global HR consulting and software company co-listed on the London AIM and the Tel Aviv Stock Exchanges. Pilat's HR software, consulting-house and service bureaus are designed for organizations to Get Ahead(sm) through leading-edge Talent Management, Performance Management, Development Management, Reward & Compensation, Organizational Development and Business & HR Metrics solutions.
Note to Editors: Pilat, CENTREUS, Centreus 360, Centreus Develop, and Get Ahead are trademarks or registered trademarks of Pilat (North America) Inc. Other product or service names mentioned herein remain the property of their respective owners.
Media Contacts:
Grace Petchonka
Marketing Manager
Pilat (North America) Inc.
(800) 338-9701
(908) 823-9417
This press release was distributed through eMediawire by Human Resources Marketer (HR Marketer: http://www.HRmarketer.com) on behalf of the company listed above.
###