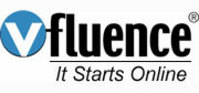 Our company has grown because our clients want online analysis and execution support from Internet-dedicated experts who understand how consumers use the Web to find information, form beliefs and take related actions
San Diego, CA (PRWEB) September 10, 2007
v-Fluence Interactive Public Relations, the global leader in online brand marketing strategy and analytics, announces its inclusion in INC. magazine's INC. 5,000, the publication's annual listing of the fastest-growing privately held companies in the United States.
"Our ranking is a testimony to the growing influence of Web 1.0 and Web 2.0 spaces and the corresponding demand for our unique, measurement-based marketing and PR services," says Jay Byrne, v-Fluence president. "Our growth as a company also underscores the growing recognition among corporate C-level executives that 'it starts online.'"
The INC. magazine v-Fluence ranking marks the second time this year that v-Fluence's growth has gained the attention of industry peers and organizations that track successful, privately held companies. In May, O'Dwyer's, a PR industry publication, recognized v-Fluence as one of the fastest-growing top 100 independent PR agencies in the country.
"Our company has grown because our clients want online analysis and execution support from Internet-dedicated experts who understand how consumers use the Web to find information, form beliefs and take related actions," Byrne says. "Our strength is our ability to turn that competitive, online market intelligence into measurable, proactive outreach and positioning."
About v-Fluence Interactive Public Relations:
With locations in San Diego, St. Louis, Boston, Chicago and Washington, DC, v-Fluence is the Internet marketing and issues management leader. v-Fluence provides major brands and organizations the online analysis, counsel and execution support they require to be measurably successful on the Web, in blogs and beyond.
Web resources:
http://www.inc.com/inc5000/2007/company-profile.html?id=200730000
http://www.odwyerpr.com/pr_firm_rankings/independents.htm
Contact:
Lance Helgeson
(877) 835-8362 ext 2032
info @ vfluence.com
###