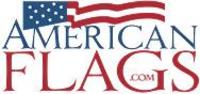 Patriot Day is a time for us to remember and honor those who lost their lives in 2001 - not a day to dwell on rambling terrorists
Hauppauge, NY (PRWEB) September 11, 2007
As we observe the sixth anniversary of 9/11 and as a second Osama bin Laden video attracts international media attention, AmericanFlags.com urges all citizens to display their American flags, keeping them at half-mast throughout the day. While U.S. flags and other visible displays of national pride flourished in the wake of 9/11, many of those symbols of patriotism have disappeared in recent years and badly weathered and tattered flags have become all-too-commonplace.
"We must not allow Osama bin Laden to hijack 9/11," said AmericanFlags.com President and CEO Jeffrey L. Reynolds, Ph.D. "Patriot Day is a time for us to remember and honor those who lost their lives in 2001 - not a day to dwell on rambling terrorists," said Reynolds. "The patriotism exhibited in the days, weeks and months following 9/11 united the country and energized communities against terrorism in all its forms. The American flag remains our most visible symbol of strength and resolve in the face of adversity; fly the flag today and every day. It's the very least we can do."
AmericanFlags.com is the world's largest retailer of top-quality American flags and flagpoles, supplying American-made patriotic products to corporations, small businesses, schools, military bases and consumers nationwide. The website also features state flags, world flags, historic flags, military flags, advertising flags, sports flags and garden flags. AmericanFlags.com is owned and operated by Precision Marketing Solutions, Inc., a privately-held corporation based in New York.
###