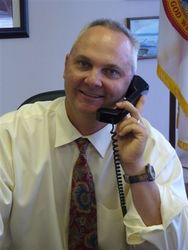 I'm delighted to be representing Rick especially at a time when real estate is in the news just about every day
Tampa, FL (Vocus) September 11, 2007
The Tampa-based publicity company, ThePublicityAgency.com, signed the region's leading real estate investment expert to a publicity contract, the company announced today.
Rick Harper of Harper Realty specializes in investment real estate. He helps novice and experienced real estate investors capitalize on market downturns to make money.
"I'm delighted to be representing Rick especially at a time when real estate is in the news just about every day," says Glenn Selig, publicity agent and founder of ThePublicityAgency.com.
Selig represents individuals and companies who want free news publicity.
He's a former television reporter, investigative reporter and anchor who left a successful 20 year career in TV news to form his own publicity companies. A sister site, PressReleasePros.com, also is run by Selig. The company writes press releases for businesses and individuals and also handles distribution of the news releases to media outlets.
ThePublicityAgency.com represents doctors, lawyers and other business professionals both in the Tampa Bay area and nationwide.
About ThePublicityAgency.com: The PublicityAgency.com creates custom marketing campaigns for companies and individuals seeking publicity. The company represents clients in Tampa, Fla. as well as cities nationwide.
Interview Requests: Glenn Selig is available for television, radio or newspaper interviews.
Contact: Glenn Selig, ThePublicityAgency.com
Email: glenn @ thepublicityagency.com
Phone: (813) 300-5454
Web site: http://www.ThePublicityAgency.com
This press release is professionally written by PressReleasePros.com.
###