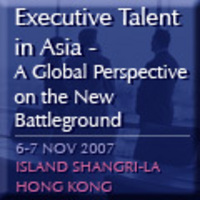 Executive Talent in Asia - A Global Perspective on the New Battleground
London, UK (PRWEB) September 12, 2007
"Executive Talent in Asia - A Global Perspective on the New Battleground", the conference organized by search-consult in Asia, is attracting executive search recruiters and HR executives from around the world. With two months before the prestigious event, delegates from 15 countries have already booked their places for the gathering, taking place in Hong Kong on November 6-7, 2007.
The two-day "Executive Talent in Asia - A Global Perspective on the New Battleground" forum aims to provide valuable learning and networking opportunities for distinguished leaders from both Western and Asian organizations, experts from the Corporate Recruiting/Human Resources Community and prominent Executive Search Consultants who want to address the best ways to win the latest battlefield that is emerging in the war for talent.
Speakers will include:

Tana Akson, Principal, Amrop Hever, THAILAND
Dick Ayling, Senior Vice President, DDI, HONG KONG
Linda Downs, Head of Resourcing, North East Asia,Standard Chartered, HONG KONG
Nancy Garrison Jenn, Writer on Executive Recruitment
Mark Geary, Managing Director, AsiaNet Consultants Ltd., HONG KONG
Peter Haddad, Talent Acquisition Executive, Lenovo, USA
Cindy High-Fishamann, Director and VP Greater Asia Region, Eastman Kodak Corporation, CHINA
Cathe Johnson, Global Human Resources Director, Abbott, JAPAN
Addy Lee, Managing Partner, Amrop Hever, CHINA
Joe D. McCool, Author and Consultant on Executive Search best practices, USA
Roger Marshall, Partner & Managing Director, Ray & Berndtson, JAPAN
Steven McKinney, Managing Director, McKinney Consulting, SOUTH KOREA
Indrani Mukerjea, CEO of INX India and Board Director of IMD International Search and Consulting, INDIA
Michael Murphy, VP Human Resources, Philip Morris Asia, HONG KONG
Nirmit Parekh, CEO & Managing Director, 3P Consultants Pvt. Ltd., Chairman of Penrhyn International; Vice Chairman, Executive Recruitment Association, INDIA
Brian Renwick, Managing Director, Boyden Management Consulting Asia, HONG KONG
Louisa Wong Rousseau, Group Managing Director, Bó Le Associates, CHINA
Roland Ruiz, Head of Compensation, Hay Group Asia, HONG KONG
Lori R. Sabet, Managing Director / Global Head of HR, Carlyle Group, USA

Vincent Swift, CEO, The Wright Company / TRANSEARCH, HONG KONG
Francis Tong, General Manager, Human Resources, Hutchison Port Holdings, HONG KONG

Tony Tyler, Chief Executive Officer, Cathay Pacific
Nancie Whitehouse, Principal, Whitehouse Advisors, USA
Peter Wright, VP HR, Refining and Marketing, BP Plc, UK
Annie Yap, CEO, GMP Search International; President, Singapore Staffing Association, SINGAPORE
Finally, search-consult has arranged a number of optional workshop sessions. These are: Best Practices in Search Firm Management and Branding; The Insider's Guide to Selecting and Managing Search Firms and Winning With Clients - An Insider Shares What Every Recruiter Needs to Know!
Jason Starr, Publisher of search-consult magazine and Host of the conference commented: "The recruitment of senior level talent is one of the major challenges facing global corporations today, and no where is the shortage of talent more severe than Asia. We are delighted to be associated with some of the leading global thinkers on this topic."
This leading event has received the backing of first rate sponsors, such as Boyden Global Executive Search, Amrop Hever Global Executive Search, IMD International Search & Consulting, Dillistone Systems, The Wright Company/TRANSEARCH, Whitney Group, AsiaNet Consultants, CDS, IACPR (International Association for Corporate & Professional Recruitment), Xmei International, Napier Wolf, Cathay Pacific, ASIAMONEY, The Standard, A-Performers.com and HR Executive Solutions.
For a detailed agenda and to book a place, please visit http://www.search-consult.com/asia2007. Alternatively, you can email events(at)search-consult.com or call the firm's Marketing Team on +44 (0)20 7749 6102 for further information.
-------------------------------------------------------------------------------------------------
Notes to editors:
search-consult is dedicated to offering training courses, organizing conferences and publishing the latest news, trends and challenges related to the search industry in its quarterly magazine and monthly regional e-newsletters.
search-consult is part of Dillistone Systems, the only global supplier to specialize in the supply of software and services to the Executive Search and Executive Selection community. Our clients range from independent researchers to major players in the industry. In fact, 50% of the leading Search firms in the World use our software in at least one office. Sizes of Search firms can range between 1 and 1000 users. FILEFINDER is used in 50 countries. In fact, Dillistone Systems has offices in the US, UK, Germany and Australia to ensure that our clients receive the best possible support in their operational use of FILEFINDER.
For further information, please or contact Margaret Jaouadi at margaret.jaouadi(at)dillistone.com.
###