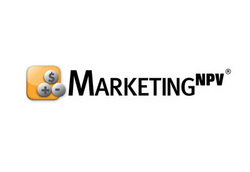 Princeton, NJ (PRWEB) September 12, 2007
MarketingNPV today announced the launch of two new webcast series: Marketing Measurement Today and Measured Thoughts with Dave Reibstein. These series are designed to provide senior marketers with the information they need today to help meet the challenges of marketing measurement and resource allocation.
The first series, Marketing Measurement Today, features 30-minute sessions covering tactical approaches to marketing measurement. Designed with the schedule of busy executives in mind, these webcasts will be held once a month and will offer brief, targeted overviews of practical information for today's senior marketers. The first webcast, 10 Things to Teach Your CFO about Measuring Marketing Effectiveness, hosted by Pat LaPointe, will debut on Tuesday, Sept. 18, at 11:30 am EST. Other webcasts in the series will include: Moving Beyond the Marketing Mix Model, How to Create a Simple but Effective Brand Scorecard, B2B Marketing Measurement Solutions, Overcoming the Obstacles to Effective Marketing Measurement, and Emerging Marketing Metrics. For more information and to register, go to http://www.bettermanagement.com/keycode.aspx?keycode=538298.
The second, Measured Thoughts, offers unique, executive-level insights into the efforts required to measure the effectiveness of marketing initiatives. Hosted by Dave Reibstein, the William Woodside Professor of Marketing at Wharton School of Business and managing partner at MarketingNPV, Measured Thoughts will offer one-on-one, informal discussions with today's top CMOs designed to provide a candid look at the state of marketing measurement today. Our first event will be available in October and will feature Dan Henson, CMO of GE. Others series participants will include Cammie Dunaway, CMO, Yahoo!; Rob Malcolm, President of Global Marketing, Sales and Innovation, Diageo; and Sean Haggerty, CMO, Vanguard. More information on these events can be found at http://www.bettermanagement.com/seminars/details.aspx?l=14482.
MarketingNPV (http://www.MarketingNPV.com) is a highly specialized advisory firm that links marketing expenditures to financial value creation, providing continuous improvement in the effective and efficient allocation of marketing resources. The firm uses processes and tools tuned to measure the payback on marketing investments, track the right performance metrics, and forecast the economic impact of changes in strategy or tactics. MarketingNPV maintains the world's largest online archive of articles and resources about marketing measurement, and publishes MarketingNPV Journal quarterly.
Marketing Measurement Today and Measured Thoughts are trademarks of MarketingNPV. Marketing Measurement Today and Measured Thoughts webcast series are produced in conjunction with SAS and BetterManagement.com.
MarketingNPV contact:
Tina Anagnostis
MarketingNPV
(908) 439-2891
Tina.Anagnostis(at)MarketingNPV.com
###