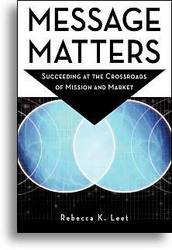 Message Matters: Succeeding at the Crossroads of Mission and Market
St. Paul, MN (PRWEB) September 12, 2007
The President of the United States spends some part of each day thinking about his message, so why don't the 1.5 million presidents of nonprofit organizations do so?
Because, until now, they've lacked a simple yet powerful process for creating strategic messages -- messages that break through information overload and move target audiences to action.
"Message Matters: Succeeding at the Crossroads of Mission and Market," a new book by management and marketing expert Rebecca Leet, gives nonprofit leaders that process. It explains how organizations can develop messages that prompt stakeholders to fund them, vote their way, participate in their program, buy their service, volunteer for their organization, quote them, adopt a best practice, recognize their brand, enter into a coalition, or take other specific actions.
To communicate successfully, foundations, associations, and nonprofits must connect with the desires that drive their audiences to take action. Technology has empowered consumers to expect--and get--what they want. As a result, people tune out messages that don't reflect something they care about. Strategic messages keep audiences tuned in so the organization can turn them on to taking action.
"Message Matters" gives nonprofit leaders a simple framework for making strategic decisions and a five-step process for creating activating messages. Leet's innovative "action connection" framework helps nonprofits critically think through:
1. What specific action they want to occur.
2. Who they must motive to make the action happen.
3. What these targeted audiences want.
4. Where there are shared desires between the nonprofit and their audience.
5. How to convey their message effectively.
Following the framework discussion, "Message Matters" explains the five-step message development process and describes Leet's tested methodology for completing the steps.
Examples from more than a dozen associations, nonprofit organizations, foundations, and government agencies show how they have advanced their causes with messages created using the framework and steps in this book. A special chapter brings the theory and process to life in a case study showing how an organization is using strategic messages to build a nationwide movement to change the paradigm for preventing child abuse. The examples also show why message development is a leadership responsibility and cross-functional activity, not a task to be delegated to the communications department alone.
Moving people to action is essential to achieving the mission of most nonprofit organizations. "Message Matters" will help nonprofit leaders create motivating messages by speaking to their audience desires.
About the Author
Rebecca K. Leet is principal of Rebecca Leet & Associates, which helps organizations think before they speak and speak so that others listen. She has provided strategic counsel to nonprofits since 1985 including developing the first strategic plan for Friends of the Earth, the first strategic marketing plan for the American Lung Association, and the first strategic communications plan for Zero to Three.
In addition to consulting, Rebecca writes and speaks about management and communications issues. She has been quoted in 10 books and in publications like the Wall Street Journal, the Chronicle of Philanthropy, and PR Week. She is the author of From Fundraiser to Change Agent: The Story of Transforming United Way of Metropolitan Atlanta (United Way of Metropolitan Atlanta, 2003) and Marketing for Mission (BoardSource, 1998).
Prior to starting her firm, Rebecca was a congressional reporter for the Washington Star, director of news information for ABC News/Washington, press secretary to former U.S. Senator Lowell Weicker, and vice president of communications for the Wilderness Society.
About the Publisher
Fieldstone Alliance (formerly part of the Amherst H. Wilder Foundation) publishes practical books--with a focus on nonprofit effectiveness, funder effectiveness, and community building. We also provide in-depth consulting expertise to help organizations, collaboratives, networks, and intermediaries with organizational assessment, management planning, stakeholder analysis, and implementation of capacity-building efforts to increase results and impact. Web visitors will find many free reports on a variety of nonprofit and community development issues. You can also read back issues of "Tools You Can Use" our monthly e-newsletter which contains free management tools or ideas from our books.
About the Book
Message Matters: Succeeding at the Crossroads of Mission and Market, by Rebecca K. Leet
$26.95 (Discounts are available on bulk orders.)
6" x 9" softcover, 160 pages
ISBN 978-0-940069-63-3
To order, visit Fieldstone Alliance or call 1-800-274-6024.
Contact Information
For the publisher:
Becky Andrews
651-556-4503
bandrews (at) FieldstoneAlliance.org
For the author:
Rebecca Leet is available for interviews and can be reached online through her web site at Rebecca Leet & Associates
###