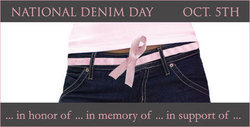 Woburn, MA (PRWEB) September 12, 2007
Truejeans.com is gearing up to participate in National Denim Day being observed on October 5, 2007. Celebrating its twelfth year, this national event has raised more than $66 million for breast cancer research. Truejeans.com hopes to add to that total with its special promotion being offered from September 28, 2007 to October 6, 2007. Lee Jeans is leading the way in this charitable push and Truejeans.com, although not officially affiliated with Lee Jeans, is following the denim company's lead by encouraging its customers to support the cause in a creative way.
At Truejeans.com, customers enter a few key body measurements online and answer some general questions about their body shape, and True Jeans' fit finder pops back with a personalized list of jeans that fit. It takes only a few minutes to complete, and is very convenient for busy people who enjoy the latest fashions but don't have time to try on 50 pairs of designer jeans at a dozen different stores. Truejeans.com offers some of the most popular brands including William Rast, Hudson Jeans and Lucky Brand Jeans.
Recognizing that denim worn on National Denim Day will not only be worn for comfort, but will also make a powerful statement for an important cause - Breast Cancer Research - Truejeans.com is offering a $5.00 discount to customers for purchases made during the special promotion dates. In addition to the discount, Truejeans.com will also make a donation of $5.00 per order in support of the Women's Cancer Programs of the Entertainment Industry Foundation (EIF). Funds will be used to support a groundbreaking scientific project to detect breast cancer in its earliest stage. They will also help accelerate treatment research and increase patient access to some of the most significant clinical trials in the nation, as well as support grassroots education programs across the country.
Truejeans.com's special twist on National Denim Day offers discount incentives that will hopefully further the message of the importance of early detection.
""I'm honored to join the Entertainment Industry Foundation as an ambassador of this worthwhile campaign," said Romney Evans, co-founder of Truejeans.com. "Having learned about the impact of this grassroots program, we are thrilled about the important, collaborative research supported by Denim Day donations, and we hope the millions of people who have united together and helped raise funds the past 12 years continue this journey with us because the advancements being made are so promising," Evans added.
The Entertainment Industry Foundation (EIF), as a leading charitable organization of the entertainment industry, has distributed hundreds of millions of dollars to support charitable initiatives addressing critical health, education and social issues.
For questions about EIF's Women's Cancer Programs and information about breast cancer, visit http://www.eifoundation.org/ or call 800-426-0010.
If you would like more information about this topic, or to schedule an interview with Kristen Deveau, please call 617-5848-3740 x105.
###