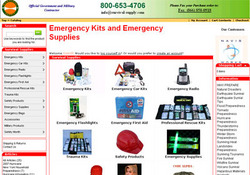 Greenwich, CT (PRWEB) September 12, 2007
One of the most important factors at home and in the workplace, safety is often overlooked when it comes to being prepared before a disaster happens. In some cases, many people give no thought to how they would take care of themselves, their families and their employees if a natural disaster or other emergency occurred. Survival-Supply.com ensures that the information for how to deal with a disaster, no matter what type, is easily accessible to the public. By releasing survival and preparedness tips for everything from an earthquake to a chemical attack, as well as providing a variety of emergency preparedness kits, Survival-Supply.com covers all of the bases when it comes to being prepared for emergencies.
According to Survival-Supply.com Senior Officer Jim Chils, "We have one of the largest selections of emergency preparedness products on the web. We aim to equip families and businesses with the best emergency preparedness kits available while also offering the essential tips needed when thrown into an unexpected situation. Our kits and guidelines can help save the lives of families, students and co-workers before, during and after a natural disaster and other emergencies."
Survival-Supply.com has services that cover individual needs as well as needs for larger organizations. From emergency flashlights and radios to first aid items, food, water and other safety products, Survival-Supply.com keeps schools, businesses and homes well stocked and well informed for disasters and emergencies. Organizations are provided with the safety information and large scale kits they require while individuals can find an emergency car kit or other essential safety guidelines to keep them covered. Survival-Supply.com has even assumed the role as the official government and military contractor for safety supplies and information.
"An emergency car kit is essential during a roadside emergency and we have the ability to offer a variety of this type of kit as well as other products necessary in a disaster or emergency situation. Our emergency kits are some of the most comprehensive kits available and we want to make sure every individual, business and organization has access to the safety products and information they need," Chils stresses.
For more information regarding an emergency car kit or other indispensable safety kits and tips, please visit Survival-Supply.com.
About Survival-Supply.com:
Offering emergency kits, supplies and tips for emergency preparedness, Survival Supply is a comprehensive source for safety products online. Survival Supply also offers information about what to do after a disaster.
###