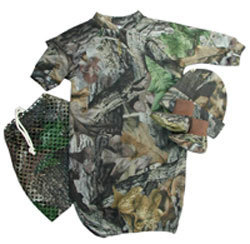 Camo in the crib will really set it off
Tulsa, OK (PRWEB) September 12, 2007
As hunting's popularity has grown, so has hunting camo's popularity as a nursery theme for babies. Tony Brobst, president of the Camo Shop, offers tips for using infant camo in the nursery and as a baby shower gift.
"It's great to use camo as a nursery theme," Brobst said. "For one, it's unisex, so it works well for both boys and girls, and that makes it easier for Mom and Dad to agree when it comes time to decorate. Plus, you get a chance to pass your hunting passion to the newest member of your family."
For people looking for either http:/baby camo shower gifts, or infant camo nursery decorations, Brobst suggests starting with the crib.
"Camo in the crib will really set it off," Brobst said. "You can find more than just a camo fitted sheet and a pillow. You can also get a camo dust ruffle and a comforter to change a crib into a real hunting haven. You can have a baby dreaming of hunting before he or she can walk."
Other baby camo nursery items Brobst mentions are a camo diaper stacker and a fleece or jersey camo blanket.
"Diaper stackers are extremely handy, and they're an unexpected place to extend a baby camo theme," Brobst said. "And with all the napping babies do, a fleece or jersey camo blanket would be both an accessory and a necessity. You could even get more than one, just to make sure you had one for different places where the baby may nap."
Camo baby items go beyond just the nursery. Brobst says that people seeking shower gifts may want to consider personalizing some baby camo. Items like camo hats, bibs and overalls can be embroidered with a phrase like "Daddy's Little Hunter."
"With an embroidered item, it becomes just a little more personal," said Brobst. "It just adds an extra touch to the gift and shows that a little more thought was put into it."
He also advises those attending showers not to forget the parents-to-be's other children.
"If they have older kids, those kids may resent the attention that the baby gets," said Brobst. "When you bring a shower gift, think about maybe getting some kid camo clothes for the other kids, to show you were thinking of them as well."
For more information about kid and infant camo, including a full line of kid and baby camo clothes and other products, visit http:/http://www.thecamoshop.com.
About Camo Shop
In business now for 6 years, The Camo Shop is headquartered in Tulsa OK. In our warehouse we maintain stock on most of the items that we sell for quick order fulfillment and shipping throughout the U.S. and Canada. We specialize in hunting camouflage merchandise for home décor (including camo bedding, lamps, rugs, drapes, etc), clothing and other miscellaneous items that enable the hunting enthusiast to celebrate their passion for the outdoors. Visit us online at http://www.TheCamoShop.com.
Promotion for press release by Xeal Inc.
###